V

OICE 

E

XTRACTION 

A

ND 

R

EDIFFUSION    =  

VEAR


We are on a mission to explode the very

act of speaking

   
 ..to find ways to hold, touch and sense the voice      
 ..to walk amongst and play with it    
 ..and to find new ways of speaking collectively.
2017: We started by gathering the voice of Hull for UK City of Culture 2017, as a major commission & act IV of the Land of Green Ginger scheme.
2018: Voice Park 2.0 gathering the Voice of Oxford – Re-developed in partnership with Oxford Contemporay Music (OCM) & 101 Outdoor Arts Centre. 
2020: Voice Park 3.0 the touring version,  we very excited to announce we are currently in process of  partnering with Mediale & York Unesco City of Media Arts over 2020, to develop the project as a touring model, to roll out nationally & internationally, with Voice Park 3.0 appearing in York in Oct 2020 as part of Mediale Festival.
2020/21: Vearo's go out in Jan 2020 gathering the voice of the Black Country with Wolverhampton Literature Festival & then return in 2021 with Voice Park 3.0
 __________THE BACKSTORY________
Fresh from Hull City of Culture's highly acclaimed 'Land of Green Ginger' commission (Act IV), and building on Aswarm's mission to forge an awareness of sound as a visual, physical & sculptural medium, Project VEAR set out to gather and distill the power of one cities voice. -In this instance, whilst they were given the nations platform as UK City of Culture 2017 it was Hull. 
The Project is now in development to become a tourable work.  – Hull provided the perfect scenario to create and prototype the concept with one city and focused on a hard to reach audiences in the suburbs. We now want to build on this initial site-specific concept to begin a broader scope project exploring the notion of 'Our Voice' that spans  from the individual, to the group, the city, nation, and then building into a European project.
– We are actively looking for partners to work with us on this next stage of development.
Project VEAR   – A two-phase process of Voice Extraction And Re-diffusion
Phase 1:   
  VEARO teams* go out to gather a diverse range of vocal samples, capturing both the sonic and intangible 'power' of people's voice, using our patented voice capturing 'Sticky Vapor' technology.    In the process they create 1000's of mini encounters with a wildly diverse range of people, in the street, parks, shopping malls, schools, fairs, pubs, supermarket isles, factories, choirs and social clubs.
Each of these little interventions in public space invites people to contribute their voice into the creation of collective 'super-voice', and in the process its gives them the unique opportunity to hold their own voice! ..and see it as the remarkable potent thing that it is.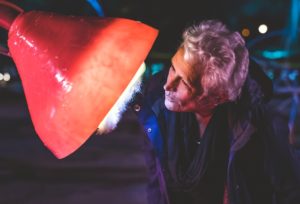 Phase 2:     Voice Park presents a multi-sensory interactive installation. It forms the culmination of the outreach voice gathering of phase 1. Operating by day & by night, Voice Park invites people to explore and play with the notion of speaking with a collective voice.
Voice Park presents a pride of 26 voice-pods surrounded by an arc of 100's of voice vessels*, all of which are plumbed together into one massive vocal distillation & multi-voice speaking' system. • People enter, explore and play with the art of a city's voice speaking.
• The Interactive Play: These voice-pods are interactive sculptures inter-linked into one giant speaking system >> Each pod breaths until approached >> then they listen for the visitor to speak into them.. >> they then respond by speaking a vocal utterance back, rendered in both sound & light from a bank of vocal samples (voice sources) gathered from across the city >> Over time people begin to discover a surreal form of conversing and 'speaking' collectively through and with the pods.  • Attendants tend the pods & assist visitors. • Visitors explore, interact and play at will..
We are in search of the ' Essence de Voix '. – Voice Park also forms a giant distillery, which sucks in vocally charged vapour, vents via smell stations and condenses the power of this communities voice (e.g. Hulls voice) into an olfactory liquid elixir, which is bottled and given to the visitors to take home and use when they need to draw on the power of their communities collective voice in their own lives.

This is however only the beginning..
*Stay tuned for Video's of the VEARO's at work and Voice Park in action to Follow*
*******
The VEARO's out gathering Voices: EXPLAINED IN 4 SIMPLE STEPS:
 1. The VEARO solicits a small group of participants (here in a supermarket isle of Asda).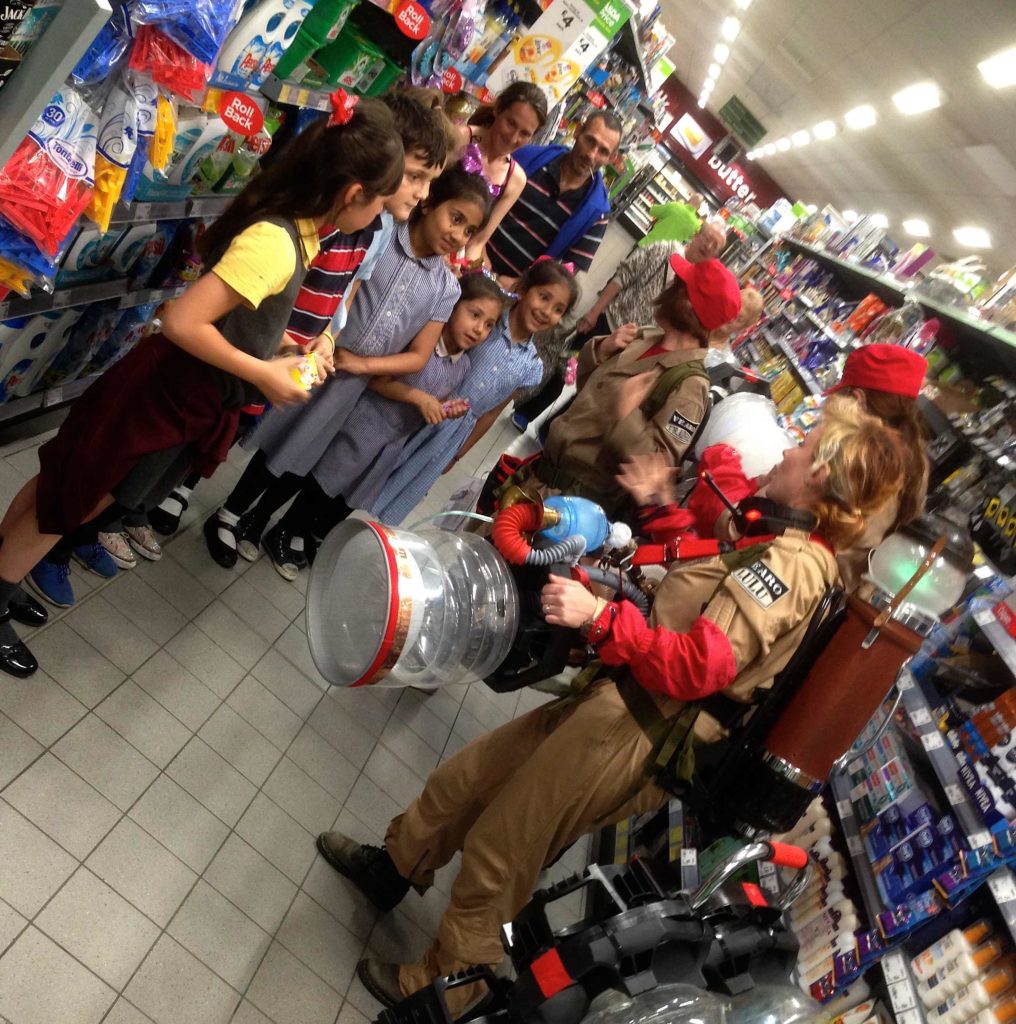 2. A participant contributes a sample of their voice into a contained cloud of sticky vocal vapour (captured here whilst perusing a local Car Boot market for instance)  

3. The charged vocal vapour is sucked from the capturing vessel around through the backpack distillation system and pumped into the freshly attached Voice Vessel.
4. The Voice Vessel is now removed from the back pack system and offered to the participant so that they can hold their own voice. (held here by a very delighted publican).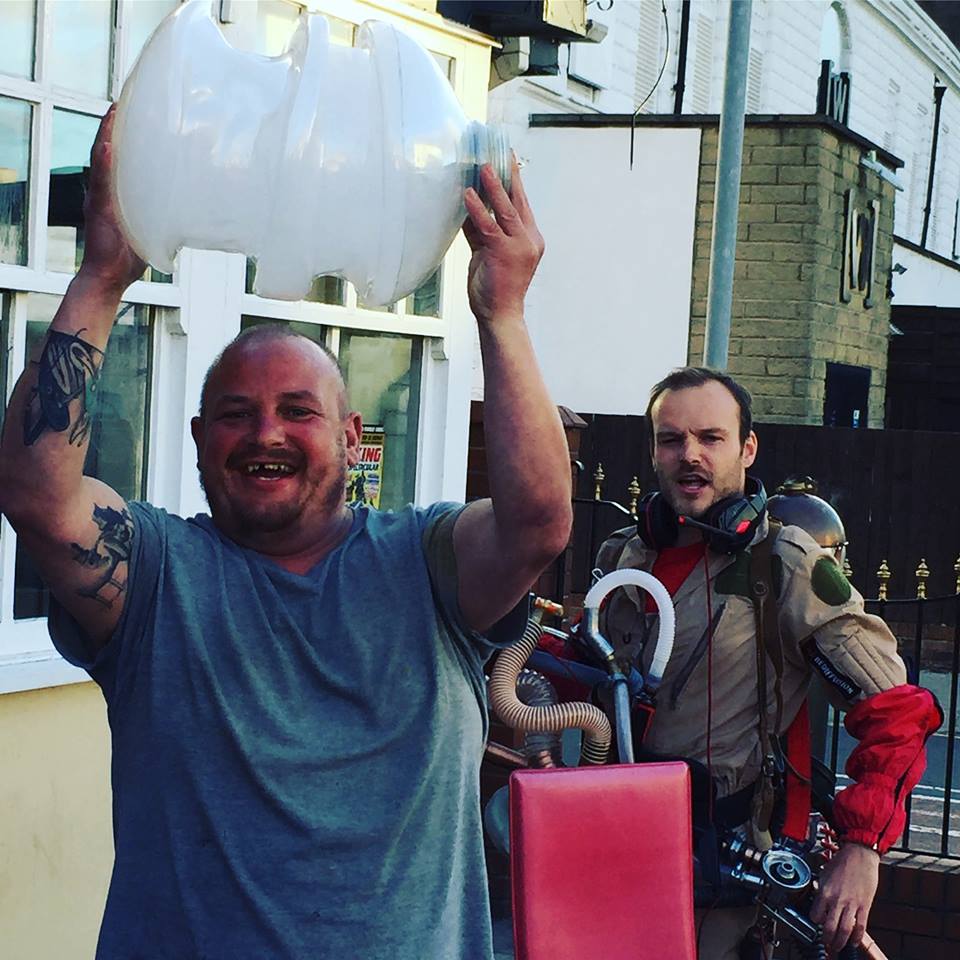 Travelling to public community & municipal spaces across the city, Aswarm's VEARO's have been giving people the opportunity to hold, to see and experience their own voices in a whole new light.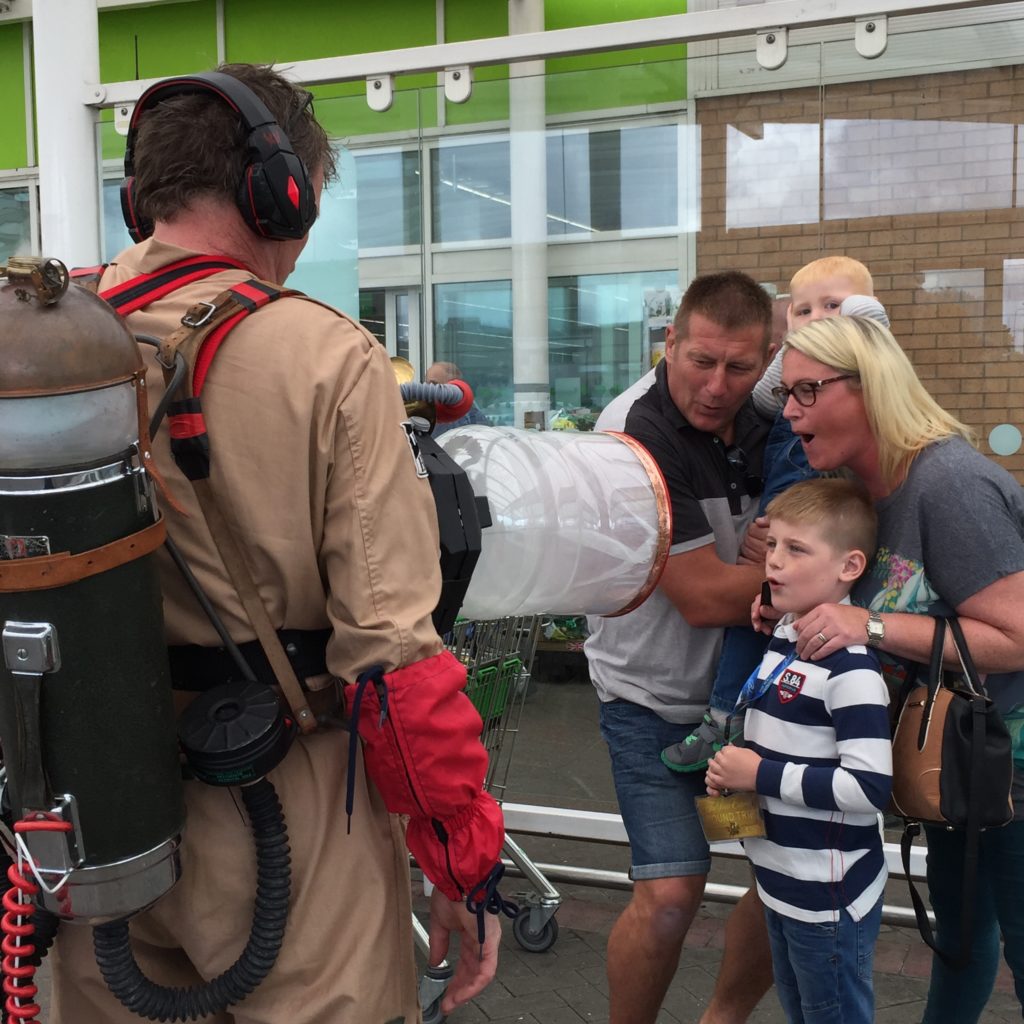 *****
What's it all about? :   We are on a mission to get us closer to the 'essence de voix' – the intangible quality that separates voice from sound and sound from meaning -and in the process explore the juncture between the inner self and public space – of speaking.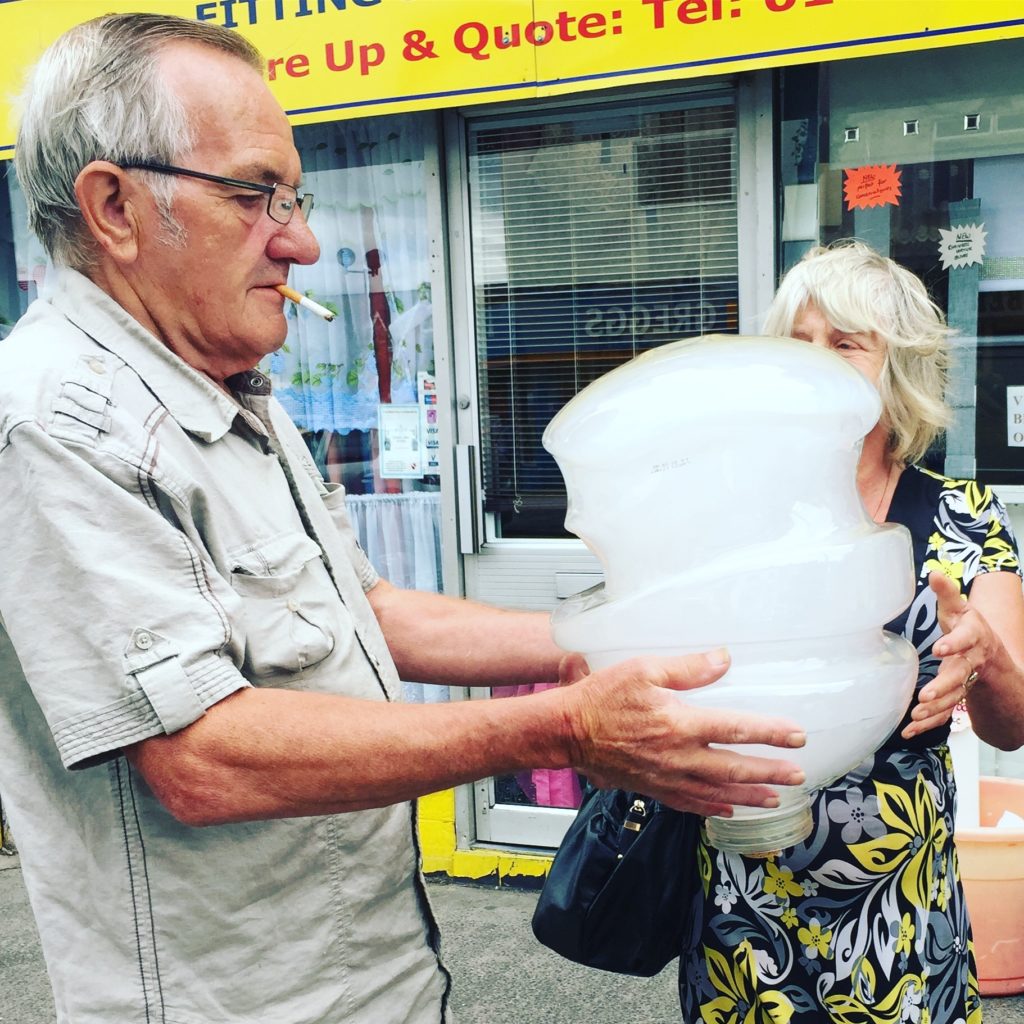 Celebrating the diversity and evolution of contemporary Hull, Voice Park brings all the disparate voices of Hull's communities together in one place.  A physical, tactile and olfactory experience designed to explore and discover new ways of speaking collectively.
Project VEAR is the natural extension of Aswarm's work and brings local heritage, collective narrative, multiple voices, sculpture and performance together through the lens of Re-Rediffusion*.
*Re-Rediffusion = A fictitious company, we created for this rendition of the concept in Hull, inspired by Rediffusion (1925-1986), who had a major impact on Hull, broadcasting the voice out across the city via one of the world's first cable networks in the 1930's.   – Our 'Re-Rediffusion' company was created with a mission to 'reverse the network' and investigate what would happen if, instead of distributing one voice out to many sites, we gathered

and distilled the voices of many people
together at one site. Exploring how we might be able to distill this collective power into 'Essence De Voix' –  an elixir to strengthen the voice when needed!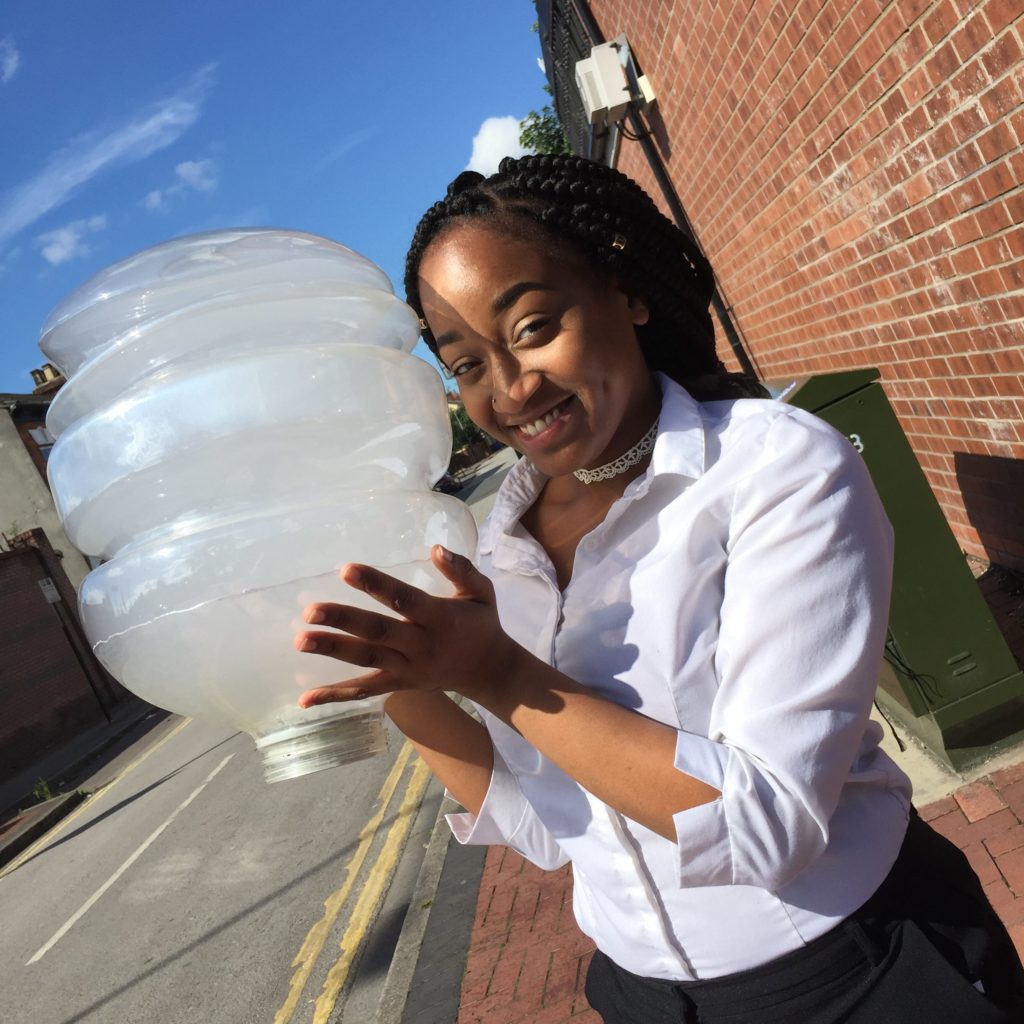 Project
Project VEAR is the first rendition of Aswarm's new tourable concept, the first step of a broader project to explore the collective voice for Europe & beyond.  
Join us in the search for the 'Essence de Voix'!
Who's Behind this??   
Core team:
• Artistic Director: Thor McIntyre-Burnie
• Co-Director and Performance Director : Chloe Osborne
• Production Manager & Designer/Maker: Andrew Siddall
• Interactive Engineer/Designer & Programmer: Nicholas Myers of The Workers.
Commissioned by:     Hull UK City of Culture 2017 
Under the Land of Green Ginger (LOGG) secret Commissioning Scheme, Produced by Katy Fuller.    LOGG Project Producer Louise Yates.
MORE IMAGES OF VOICE PARK:
______
PROJECT VEAR:  Started via a secret commission for Hull UK City of Culture the culmination of which was a 'VOICE PARK', timed to open for free in a public park in Hull on the same day as the Turner prize opened in the city's central gallery. – Open by day & by night for 1 week (26 Sept- 1st Oct 2017).
For the Hull City of Culture 2017 Commission_ Aswarm would like to thank:
VEARO Performers:
Brian Thunder
Andrew Macklin
Paschale Straiton
Lucy Frost
Joe Flemming
Chloe Osborne
Additional Team for Voice Park:
Lighting Design : Johnny Goodwin (Tourbillion)
Site Production manager: Adam Long (tgevents)
Creative Team:
Prop Maker & Artist Sculpter: Toby Jarvis
Production Assistant: Jack Wood & Theo Livesey
Prop Makers: Jessica Thompson and Liz Dees
Electrical Engineer: Ian Mitchel
Assistant makers: Chelsea & Vlad
Engineer Consultant: Martin King & Roger Hartely
Interactive Consultant: Jeremy Keenan
Linguistics & Phonetics Consultant: Valerie Hazan (HoD UCL)
Editing assistant: Phoebie Osborne
Production & making space support: BOSI & Roger Hartley
The undercover roadworks performer: Matthew Bugg