The Speakers is a site-responsive installation & construct, designed to inhabit public spaces and give voice to the unspoken, in a local vernacular.
Touring Internationally across Europe and as far as the Colombo Art Biennale of Sri Lanka, it is an ever evolving entity. Each incarnation draws in content from the hypertext of people speaking-out to the world on-line, selected as relevant to each new location and time period. These harvested 'words' are then spoken by local voices, which are then cyphered through the installation.  In addition we also ask visitors to participate via a question posed in-situ, answered via hand-written tags hung in the space and in-turn spoken into the mix. – Each manifestation adapts to a specific site, collectively offering a place to gather and to explore new narratives between the meta-threads, and the role of public space for us.
An INSITU commission under the European framework META. The project evolved from the INSITU & ZEPA commission Boiling Point (2012 ), with R&D funding from WithOutWalls (WOW), which focused on Tweets sent from the revolution in Tahrir square.
COMMISSIONS 2016 inc
• Freedom Festival. 2-3rd Sept. The English Premier! of this widely international touring piece.  Partnering with WISE, Open Doors Centre and local Poets & Writers.
Many thanks to gorgeous contributions from: Mehdi, Sadam Aldoom, Biniam Testamicheal, Michelle Dee, Catherine Scott, Robert Eunson, Julie Corbet, Audrey Fosu, Miranda van Rossum, Richard Harries, Joe Kriss (A Firm of Poets) and Holly McNish & Zena Edwards!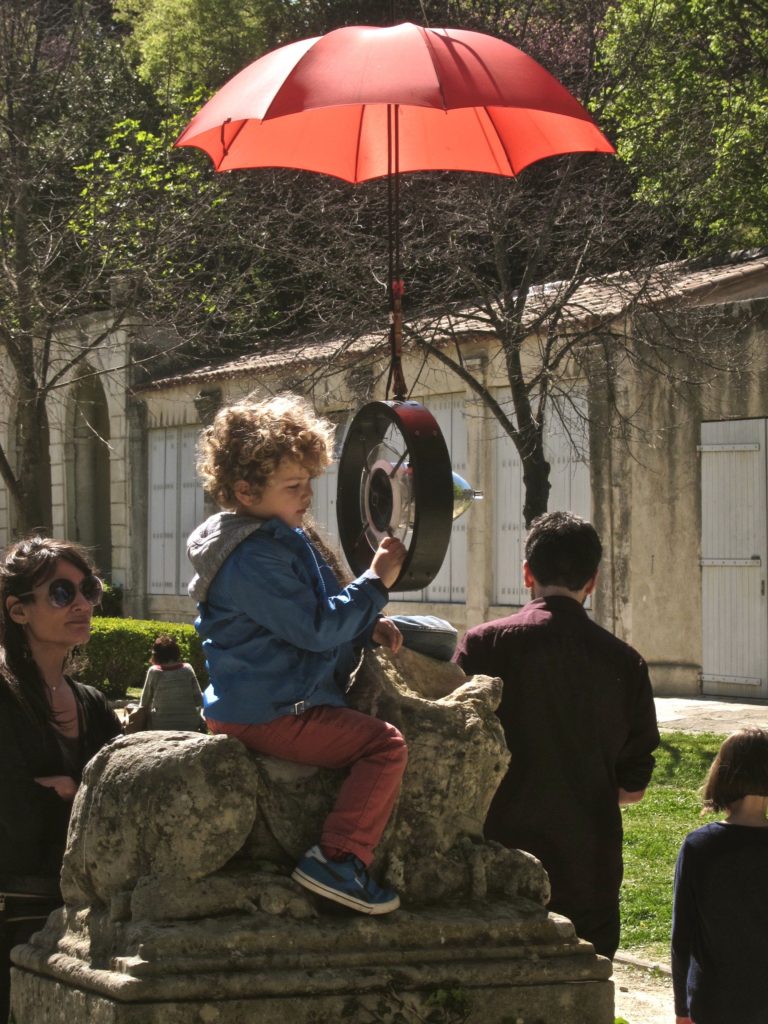 • Zat Festival Montpelier 8-10th April. In partnership with La Boutique D'Ecrtiture and Lieux Public (Marseilles). Inc words & voices created by local writers and Refugees attending the amazing  national centre for creative writing La Boutique D'Ecriture.
COMMISSIONS  2015
• 25-27th Sept 2015. Travellings Festival, Lieux Public, Marseilles, France (INSITU & Lieux Public). Largely in French (Thanks to 'Anja Jones Translation' & Lieux Public )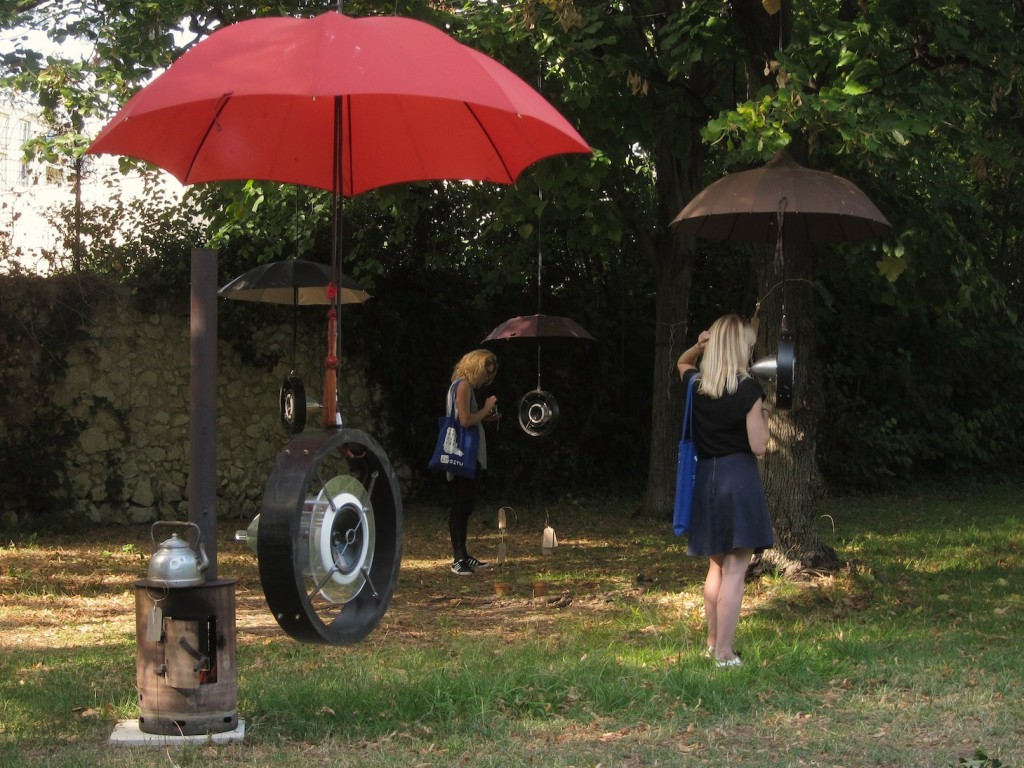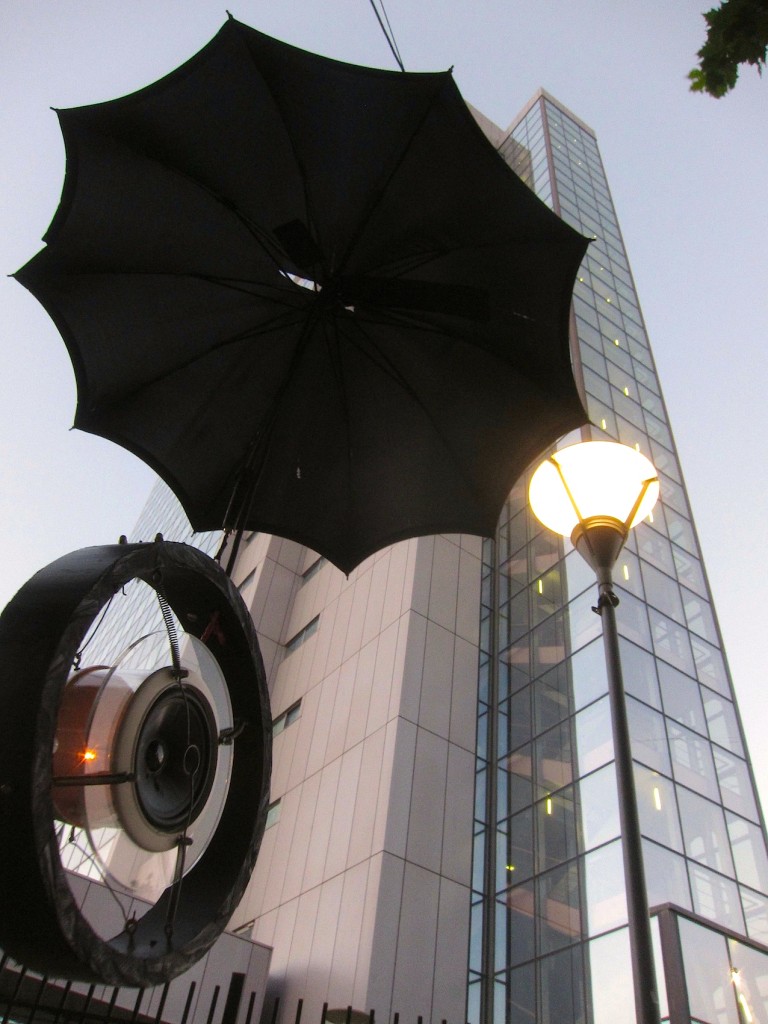 • 9-12th Sept 2015 Kosova's inaugural festival of Arts in Public Space HAPU Festival, (Teatri ODA ), Pristina,  Kosova (INSITU). Located right next to the PM's office & behind Skendebeu's (nat hero) statue, central Pristina.
COMMISSIONS IN 2014
-selected for an  INSITU (EU) culture commission for:
•  31st Jan-9th Feb Colombo Art Biennale (Sri Lanka: http://colomboartbiennale.com/)
•  
June 13-24th: 
Oeral International Festival
(Island of Terschelling,
Holland:
 http://www.oerol.nl/festival/programma-a-z/)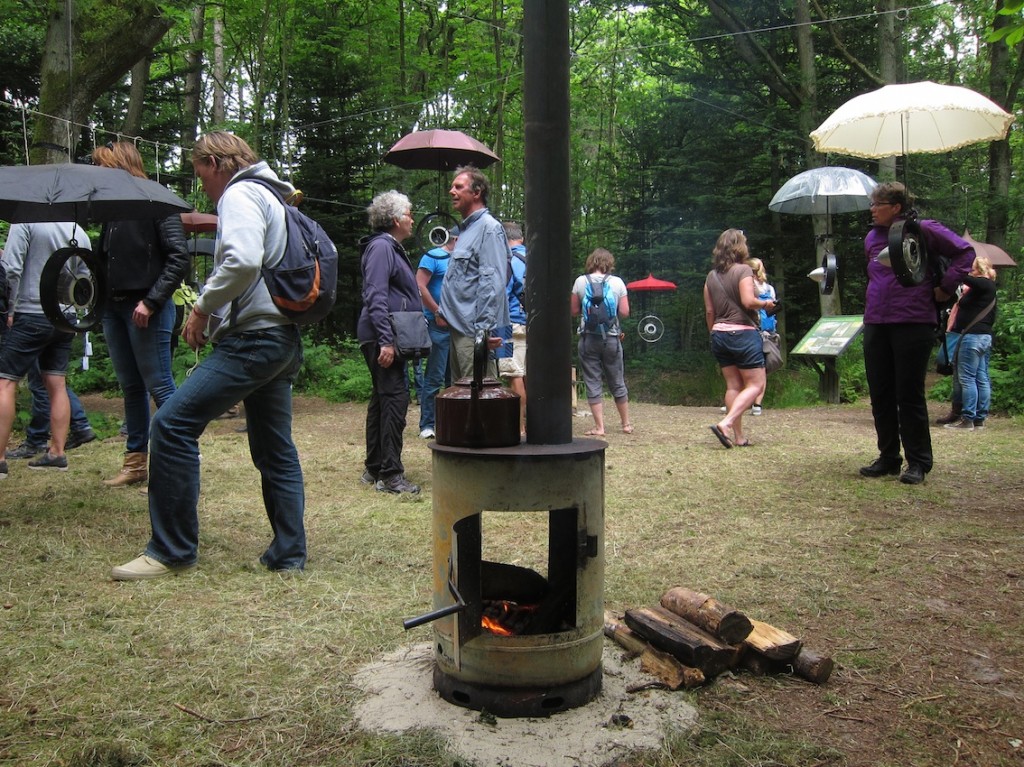 •   
Oct 31st-2nd Nov
 Klankenbaus (
Sound Art Forest
) Samhain Fest (
Belgium
) (Domelhof & INSITU) 
•   Sept:  Placcc Festival (Budapest:  http://en.placcc.hu) (Tbc)
•   Nov: Oxford Festival of Light (Tbc)
•   Nov: SouthBank Centre WW1 festival (Tbc)
About:  "The Speakers is both a process of engagement and a physical installation. The installation is designed to occupy a public space, and temporarily transform it into a kind of worm-hole between peoples and spaces, real & digital, past and live, local and global.  
The installation takes the form of:  a flock of suspended physical 'nodes', each hanging below an umbrella, each emitting a different human voice 'speaking' a spaced string of Tweets and Blogg extracts. Each voice also pulses with light. We are invited to walk within them, collaging between and or focusing in on individual sources. The flock gathers around wood burners, which heat kettles of fresh mint tea.. we too are encouraged to 'gather into the fire' and listen to this cloud of evolving stories and reports..
The Speakers offers both a simulation of and stimulation for people to gather.  The project looks at the increasing ways in which we cypher and share our very 'real' lives and experiences through digital and 'unreal' text. – for instance how a young woman amid teargas-soaked-streets of a revolution, condenses and describes her visceral experience into a Tweet –  The Speakers then gives-voice to these 'texted' and disembodied words and re-roots them in a very physical, local and multi-sensory experience." – Thor McB.
____Below are phases in the Projects development______________
Commissioned for the Colombo Art Biennale 2014 in the grounds of the Goethe Institute. -Incorporating Sri-Lankan voices, materials & references, drawing in coverage of the #Weliveriya water riots gathered in collaboration with the human rights organisation Groundviews.   ** A series of new sculptural designs were developed here, during a 1 month (INSITU funded) Residency @ SuraMadura, Sri Lanka.
 https://vimeo.com/78481662
>>>>>>>>>>>UPDATE!!
Invisible Walls Int Conference – by Lieux Publics & In Situ – Marseilles 3/4 Oct 2013.   – 200 artists, elected officials, and thinkers discuss public space in Europe!
I have been invited to deliver a talk about the project as part for the Invisible Walls Conference on 4 Oct 2013, using it as a case study for discussing the role of artistic interventions in Geopolitics in Europe today.  – I invite you to come!  Its fantastic forum for discovering whats cookin' on the street in the EU.
http://www.mp2013.fr/evenements/2013/10/colloque-lieux-publics-in-situ-invisible-walls/?lang=en
Latest PHASE: ______________________
May 2013 The Speakers on Ayr.  @ Burns an' a' that! Festival ( UZ Arts and INSITU EU network commission).
incl: New 3D Design;  Advanced Rigging System and trial working with Both Archives of Non-Digital Text Juxtaposed with Tweeted Texts: – I.e. Here Robert Burns Revolutionary Writing & Prose (C18th) 'v' Tweets sent from Revolution in Tahrir (C21st contemporary form of revolutionary writing).  Both Burns Night & Egypt's Revolution share Jan25. Also 're-speaking' Tweets from Tahrir in a local Scottish vernacular.
PHASE 2 of New Design Development 2013 >>>>>>>>>>>>>>>>>
 14th Sept 2013. Helix Day, Falkirk, Scotland (UZ Arts and INSITU EU network commission).  New Partners AudioBoo have come on board and the project now has its own Channel on Audioboo to Record, gather and collate the recorded voices. -This will provide both a Tool and a online Platform for this project.
We are working with a local Forth Valley Sensory Centre which serves this area of Scotland, and a Visually Impaired (VI) and Blind group. They're contributing their voices to the project and piloting how this project can draw on VI perspective and explore Audio Description as an art form.            Some pics below (video coming soon)!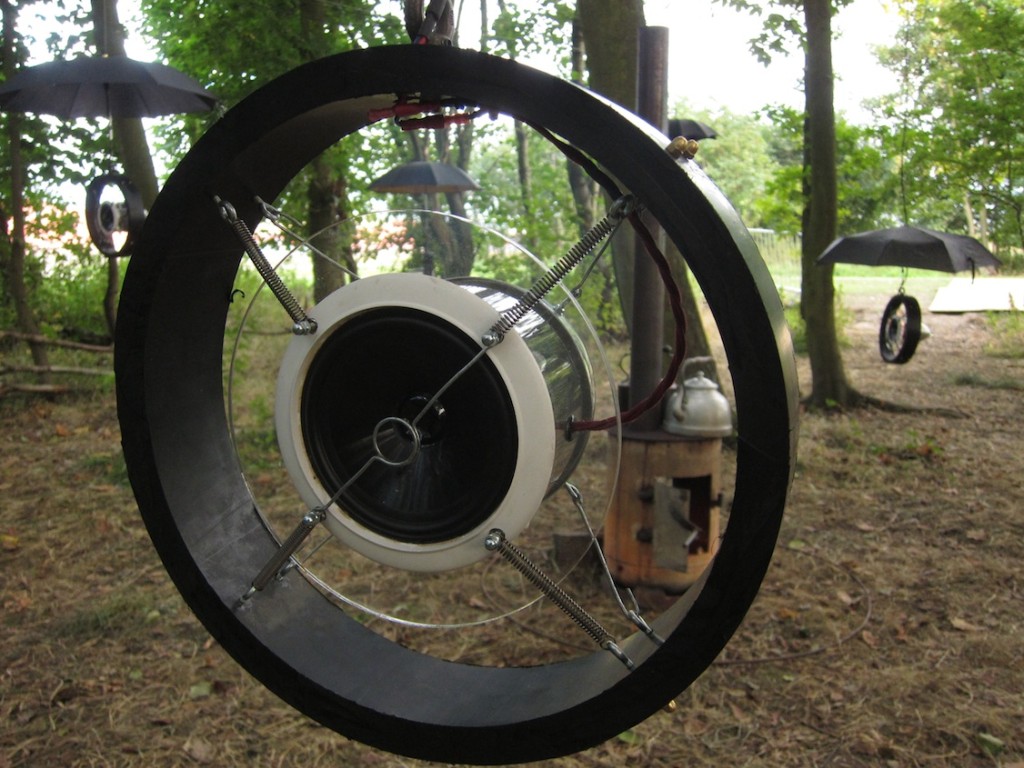 ____________BACKGROUND:
The project Boiling Point* was first made manifest in Jan 2012, to mark the Anniversary of Egypt's Revolution in Tahrir Square and in response to Atelier 231's** history, the birth place of Europe's Industrial Network Revolution via the Steam Train (** Atelier 231 @ Rouen's Train Depot, built Boilers for the infamous Pacific231 Steam Train and now runs one of Frances largest Street Arts festivals Viva Cité.). *More info on Boiling Point further below.
The NEXT PHASE of this project Boiling Point evolved into the new concept The Speakers, via R&D funding from the British consortium of Street Arts Festivals With Out Walls and the EU Culture Program project City Noises (linking London, Helsinki, Budapest). The Speakers will be developed with partners in the UK and EU, in phases over 2013 to become a tourable beast for 2014.
______________________________
VIDEO LINKS:
A Short video From V2 > The Speakers about and @Budapest Placcc Festival 2012
A Short Video from V1 > Boiling Point @ Atelier 231, France Jan 2012
_______________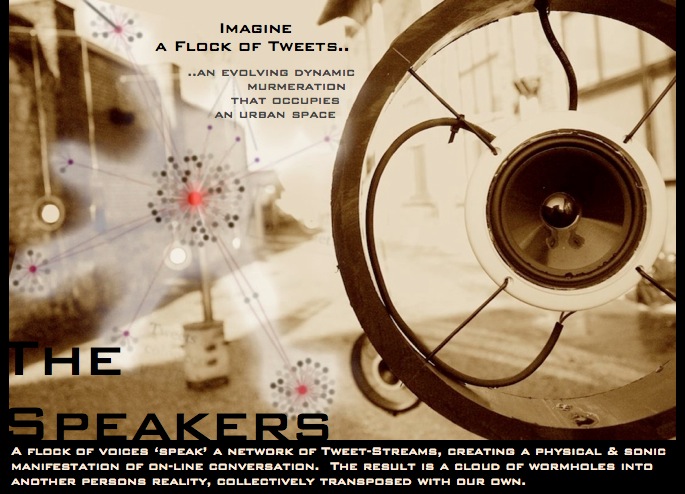 THE SPEAKERS.. – Prototype v2. –Pilot Manifestations in Budapest as part of EU partnership City Noises & INSITU @ Placcc Festival Sept 2012.
Having received R&D funding from With Out Walls (consortium of UKs leading Arts Festivals) and becoming part of City Noises ( a European cultural exchange project linking London, Helsinki Budapest. http://citynoises.org) the project Boiling Point has evolved into a new title and a shift in focus toward the emergence of this flock/gathering of disembodied voices , 'the speakers..'
In the last week of September a small sorté of 'The speakers' manifest themselves in 2 locations in Budapest: Batthyany Square, bang across the Danube from Parliament (as a part of City Nosies) and also behind the old Merlin theatre in downtown Pest (as part of the INSITU meeting).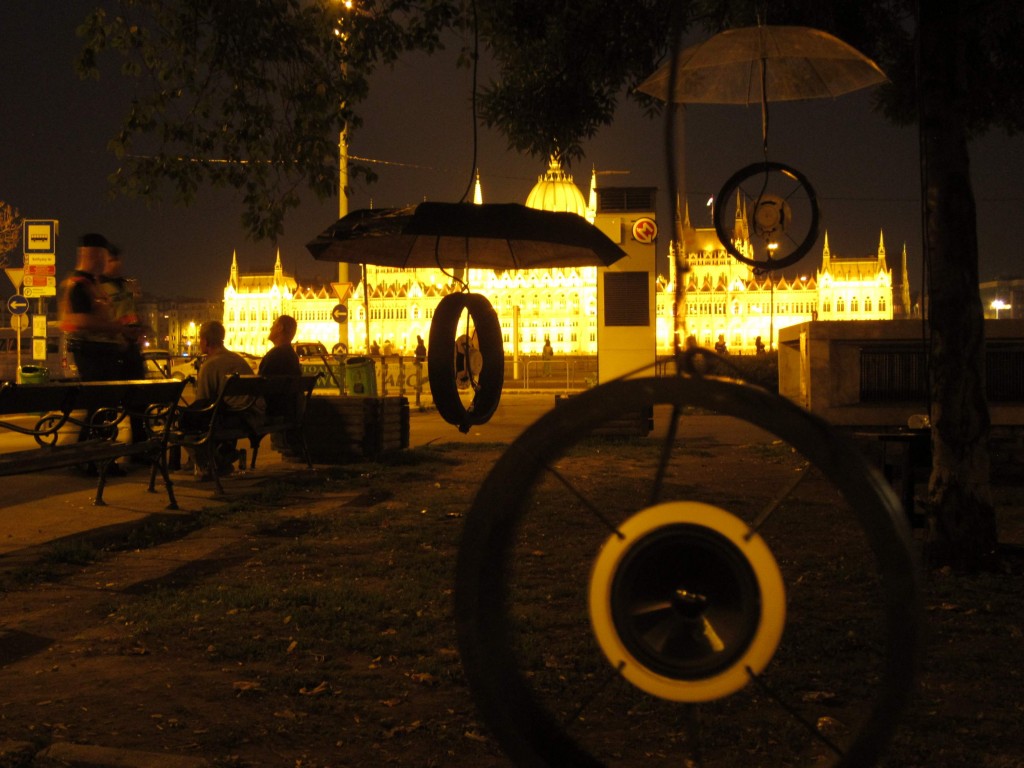 Batthyany square was a bizzaar and brilliant location, with the Parliament glowing gold as a backdrop, whilst police pressed local drunks for identity cards, commuters stumbled into a cluster of floating smokey voices speaking from #jan25 Tahrir square, meanwhile a couple of live roaming readers searched live Tweets to read into the mix in Hungarian..
This trial outing in Budapest also served to plant the seed for next years Placcc Festival , where we hope to stage 'The Speakers.." in a fully imbedded form for a Hungarian post-communist society vernacular.
More to follow on this.. including some big thank you's to the local Tweet 'Speakers',  assistant Janak Csernak and support from StreamArts, Szovetseg39 and Placcc Festival. 
_____________ Boiling Point @ Atelier231 jan 25-27, 2012 _________________
Boiling Point V1,  – The First Protoype version
Commissioned and presented as part of the winter festival Fish & Chips III @ Atelier 231, Rouen, France (A ZEPA, INSITU & Meta Commission), on the anniversary of the uprising and revolution in Tahrir Square #jan25.
Whats goin on here??
• A physical & sonic manifestation of a network entity of revolution, as existent in the Twitter-Sphere.
• Each suspended speaker (Rings) features a different voice, reading the Tweets from a different Tweeter, in thsi first verion, reporting from the revolution in Tahrir Square, Cairo.
• Each speaker has a horn-like tail which illuminates and pulses with light, in response to the readers voice (so voices appear and dissapear in light  around you).
• Speakers gather around fires/stoves, with the most 'followed' and prolific Tweeters, closest to the fire. i.e. The speakers closest to the fire speak regularly (featuring a highly followed bloggers), those further out from the fire speak less frequently (and are less followed on Twitter).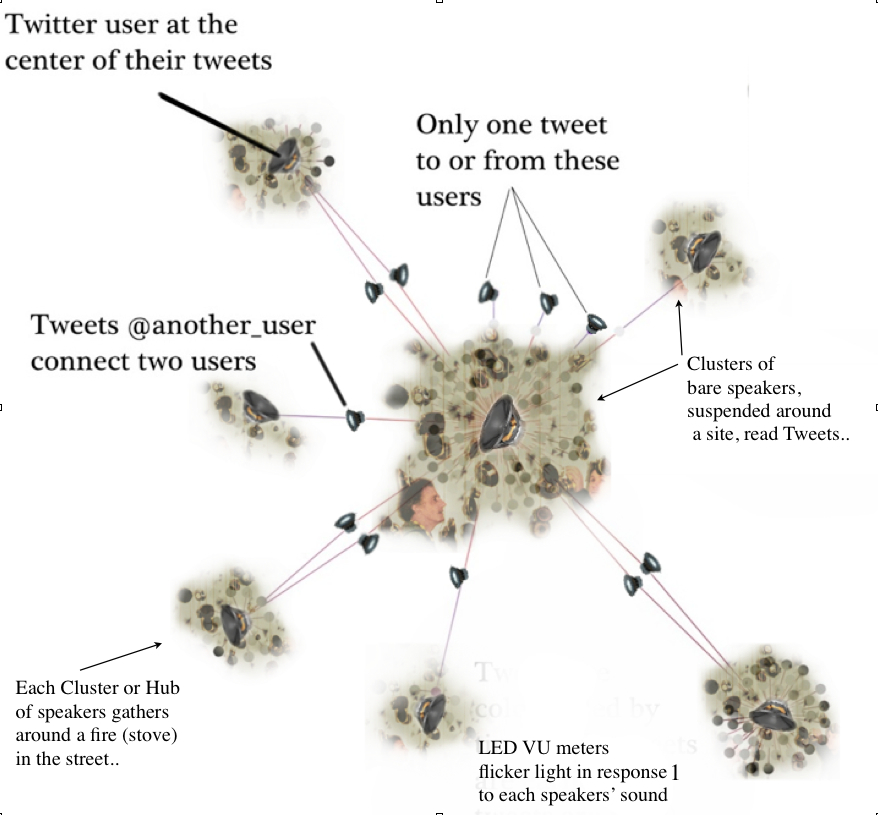 A Short Video from V1 = >> Boiling Point at Atelier 231, France
RELATED UPDATES:
The Speakers – Residency & Presentation @ Stream Arts Space, London. Oct 2012
MORE INFO ON PROJECT BACKGROUND BELOW:
PRESS RELEASE Jan: Boiling Point   – A Manifestation of a Retweeted Revolution   
Sound and Installation Artist Thor McIntyre (of Aswarm) is working on a physical & sonic manifestation of the network entity of revolution, residing in the Twitter-sphere.
Flocks of suspended speaker cones (30+) gather around fires (stoves burning wood & coal), each speaker carries a different voice, reading the tweets of a different tweeter, providing a murmeration of voices. The inner circle of these speakers consistently chatter key tweeters in the field, whilst those further out from the fire, offer less frequent (or followed) bursts of tweets.
The installation focuses on tweets written from people in the street, on mobiles in the harsh and very REAL reality of REVOLUTION.
Boiling Point aims to return these 'voices' from the plastic reality of Twitter, back into real voices in the physical reality of the street, gathered around real burning fire. However in this new scenario these disembodied 'voices' are transposed into a different urban space, and are mediated through other unrelated people, a new entity the "reader"emerges.
The aim is to offer an alternate way of interacting with this new form of disparate network entity.  On the one hand the installation acts to disseminate the words & reality of its authors to new audiences and to catalyse discussion about their cause, and on the other hand it examines where these voices exist and quiet how they are mediated and appropriated.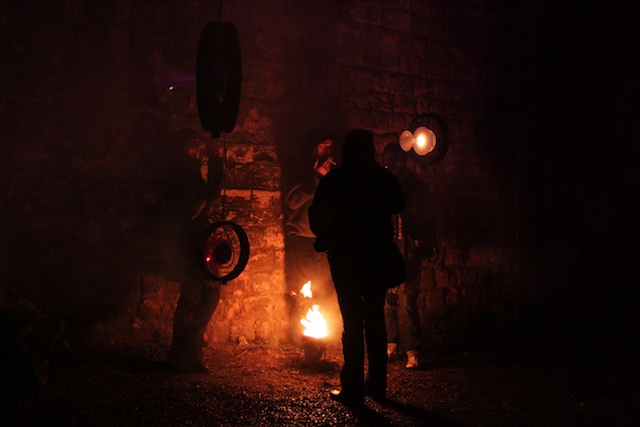 "As the fires draw people into the fold, kettles of boiling water upon the stoves & fresh mint, make tea available to those who gather, whilst a scattering of old cable reals offer seats.. – All these aspects and the words of the Tweeters offer a means of gathering and catalysing discussion. "
"People may focus on one voice stream or navigate between voices, discovering correlations and creating conversations, or stand back and get an overview of the whole chattering swarm."
The Spatial Layout of the Speakers and Fires emulates some of hte network data analysis diagrams, created to demostrate the Twitter network. Real fires provide an epicentre for local network subsets, or clusters of conversation & interest, on line.
Boilign Point V1 further info:
Focus: Network Revolution and Network Entities
Focus: Egypt's Revolution of #Jan25 in #Tahrir square then and a year on.
Focus: Twitters land mark U-turn decision to sanction censorship of its service (for the first time in its history!).  -And so reverse the very reason Twitter was used to help organise this emblematic revolution in the first place..
Boiling Point V1 @ Fish & Chips #3 Festival (Jan 25-27th 2012), l'Atelier 231.
As an INSITU & META supported artist in residence @Atelier231, Sotteville-lès-Rouen (FR) (One of Frances leading creation centres).
In this first prototype rendition of the idea, the installation concentrates on voices reading tweets generated during the revolution in Cairo's Tahrir square* #Jan25, and interlacing these with the more recent uprisings and elections in Egypt since the fall of Mubarak.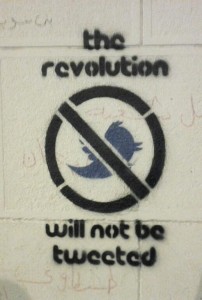 This commission also draws on the historic context of Atelier 231, originally manufacturer of Boilers for the Pacific 231 Steam Locomotive. It was here in Rouen that the Train Network of the continent grew forth, revolutionising our concept of time & space.
Given  this context & the timing on the anniversary of todays most emblematic example of the new virtual Network Revolution, the Egyptian Revolution of  Tahrir Square #Jan25, it seemed very prescient to set Boiling Point V1 here and now.
Links to Exhibition:
http://www.atelier231.fr/fr/actualites/511-fish-and-chips-3-thor-mcintyre.html
http://www.zepa9.eu/Thursday-evening-at-the-Fish-and.html?lang=en
http://www.zepa9.eu/Friday-evening-on-the-Promenade.html?lang=en
The Projects Future Development: Phase III
• Develop capacity for Livestreaming of tweets, voiced via a cloud network of 'Readers', so we can track and follow live events and subjects pertenatnt to the exhibition location, community and language.
• Investigate adding a new contextual layer via live brroadcast Audio Desciption (AD is the service to offer Blind viewers a description of televion).
• Develop an installation model which can tour and easily adapt to different sites & scenarios.
The initial version of the project @ Atelier 231, uses solely pre-recorded voices, speaking from Tahrir, however the longer term aim of the project is to develop a mix of pre-recorded and live streaming feeds, utilising a network of "Readers", to give voice to the text as it is published live on line.
By following key hash-tags and authors, the installation can offer a means of tracking events and discussion live. The work will focus around voices of dissent and reportage from people in very REAL and ALIVE scenarios (i.e. revolution), whilst also exploring questions of authorship, authenticity & censorship ( esp. since Twitters recent U-turn decision to sanction censorship of its service).
Boiling Point has a confirmed commission for 2013 and has been awarded a Writing & Mobility Grant aid from IN-SITU (http://www.in-situ.info/fr/), in the framework of the project META to develop the work over 2012, and we are actively looking for partnerships with related Academic Research Centres and Cultural Institutions to develop the concept in a wider context of research and across borders.
Phase III Funding:
The project has been awarded R&D grant  from With Out Walls (a consortium of British Arts Festivals) – for summer 2012 . Developing the concept, to incl: Live streaming and Audio Description, AV design, touring design potential and find research partners .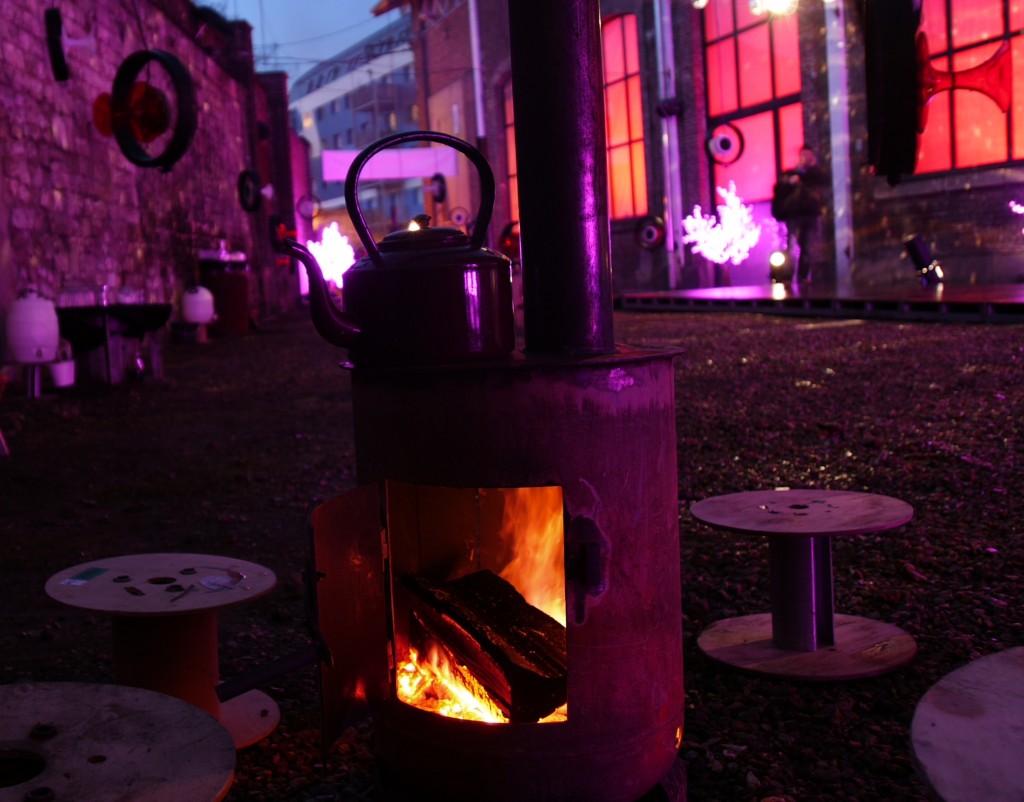 BACKGROUND INFO:
Producers backing Boiling Point V1 protoype @ Atelier 231:
– Mike Martins (Norfolk & Norwich Festival) proposed Thor & the project to  INSITU  for the "Writing side by side "seminar held in Graz, Austria (AT)** in Nov 2011, (where 18 European artists were awarded writing aid packages to contribute to the development of their projects ).     * With the support of the IN SITU network, European network for the artistic creation in public space, in the frame of the META project.
– Daniel Andrieu the creative director of Atelier231 having the faith and vision to commission the first protoype rendition of the project  Boiling Point (Merci Beaucoup!)†,
– Philip Morgan & Dave Reeves (ZEPA) proposed Thor's work to Atelier231 & ZEPA
Funding:
This project has received a Mobility Aid and a Writing Aid by the IN SITU* network, European network for the artistic creation in public space, in the frame of the META project. This project has been funded with support from the European Commission (DGEAC -Culture programme).
*http://www.in-situ.info/fr/
Boiling Point v1 (Current aswarm project). IN SITU & META (EU) commission for Atelier 231, Rouen, France, as part of Fish & Chips #3.  Also awarded Writing Aid grant to develop project over 2012. -A 48 channel Sound & light Installation.  -A voiced manifestation of revolution drawn from Twitter.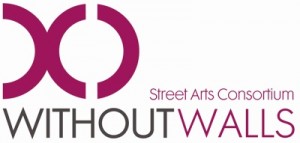 Tweet Sources:
Some of the Tweets used in this version were drawn from the fantastic publication "Tweets from Tahrir", edited by Nadia Idle and Alex Nunns, whose support in this endeavour, we are extremely grateful for.  The book offers a linear collection of posts from key activists in the 18 days of Egypt's revolution in 2011, offering the story of the uprising told directly by people who were live within it. Published by OR Books (ebook & paperback).  (www.orbooks.com ISBN:978-1-935928-45-4).
Aswarm & the creative production team.
Although Thor was artistic director of this project it was created within the wider context of Aswarm and a team of fantastic diligent and generous people, whose sweat, blood and work helped enabled this beast to actually come about..
The Aswarm Team on Boiling Point:
– Olly Aylmer: Collaborator soundscape & musical and installation rigger extra-ordinaire.
– Giulio Ammendola: Creative & production assistant & collaborator (and Sepia Photographs above).
– Joe Farley: production assistant, gathering "readers"
– Tony: fabrication & construction
– Ayssar Arida: Concept & arabic support (http://quantumcity.com/)
– Gareth Hance of H2 Organisation Ltd for amplifiers and tech support ( http://www.h2productions.co.uk/ )
A big thank you to:
– Alex Nunns for advice and permission to draw on his and Nadia Idle's publication: "Tweets from Tahrir" (www.orbooks.com)
– Roger Hartley workshop (http://www.bosi.org.uk/)
– Sheraz Hush & Emeline Fevotte and Mathilde Vautier Translation
– Nisha  gathering more "readers"
– The Angels @ Atelier: – Technicians: Rictus "Tus" and Marko and PM Christophe Mouchere. Jeremy (Sound engineer) – Chris Day -master fire-tender.
The voices – tweet "readers":
A big ThankYou to the people who kindly offered their time & voices:
Laura Alos (Bosi)              Amina (Atelier231)        Giulio Ammendola
Olly Aylmer                      Aline Barbieux               Caroline (Atelier231)
Hal Colombe                   Héléne Collomb            Léni Colombe
Anna J. Davies                Lori Etienne                  Joe Farley
Alec via Joe                    Emeline Fevotte            Florence (Atelier231)
Robert Gallagher             Roger Hartley (Bosi)     Bobi Hartley
Adam Hoskins                Sheraz Hush                 Abigail King
Christophe Mouchere     Mohamed                     Mohamed's Mum
Nisha McIntyre-Burnie    Mora Mcintyre               Peter McKerrow
Sam                               Tracy Scoffin                 Sylvain (Atelier231)
Taya                                Duncan Whitley
Translation Services a big thanks to: