Above:  The video is a slide talk sharing a selection of projects from Thor & Aswarm's folio.  – It gives a folio flavour.
___________________________________________________________________
Below : An Archival list of Past Projects:  From 2013 back to 1997.
See HOME page for more recent works
See Some major Ongoing Projects in Menu Bar: THE SPEAKERS , PROJECT VEAR (Voice Park), ORCHITECTURE and THE WIND TUNNELS PROJECT
Exhibitions, Installations, Commissions, Sound Design and Educational projects :
TeXstep  – A new Commission Due to Happen : 16th & 17th Nov 2013.
Taking the trajectory of social dancing from memories of Brighton's Regents Music Hall to todays Oceana super-club, and beyond, TeXstep asks what would it be like if we didn't have to be physically there?  ..if we could out-source all the noisy, sweaty awkward, drink & drug fuelled bit and have someone do that for us.
Taking inspiration from a comment made by a former regular of the Regent Dancehall in the 1950's, Ken Ross, and Slovoj Zizek's thoughts on the trajectory of Capitalism, the installation explores the nature of intimacy, touch, dance and bodily contact.
Former Regent Dance Hall member, Ken Ross said: "I pity the boys now, as when they so called 'dance' (unlike us) they do not hold a girl in their arms. If in my days you.. ask her to dance in a dance hall  ..hey presto you were up close and often in bodily contact." 
However for me (Thor) the aim is not to judge, but instead to offer an alternate social dance scenario for us to explore. – One that slips times and spaces mixing memories with descriptions and predictions, and even live direct instructions. The results will be varied, funny, weird, detached and engaging, but the experience all the richer for having a go.. Come and enjoy the private suite.
Featuring Performance by:  
TeXstep Instructor Hosts:   Matt Rudkin  & Chrissie Grech
TeXstep'n Perfomers:  Flick Ferdinando — Janine Fletcher — Holly France — Merry Colchester — Joe Mulcrone
TeXstep Hostess's:  Rebecca ..  & Ellie Warner
MORE info & images to follow:
TeXstep is part of a wider project called: 'Our Dancing Feet', produced by Zap Arts  & In Roads Productions.  More info to Follow but for now link: http://ourdancingfeet.carbonmade.com/
==========================

Invisible Walls conference – by Lieux Publics & In Situ – Marseilles 3/4 Oct 2013.   – 200 artists, elected officials, and thinkers discuss public space in Europe!
I'm been doing a presentation about the project as part for the Invisible Walls Conference on 4 Oct 2013, as a case study of the role of artistic interventions in Geopolitics in Europe.  – I invite you to come! come! Its fantastic forum for EU.
http://www.mp2013.fr/evenements/2013/10/colloque-lieux-publics-in-situ-invisible-walls/?lang=en
________________________
14th Sept 2013. Helix Day, Falkirk, Scotland (UZ Arts and INSITU EU network commission).  New Partners AudioBoo have come on board and the project now has its own Channel on Audioboo to Record, gather and collate the recorded voices. -This will provide both a Tool and a online Platform for this www.honeytraveler.com/buy-symbicort/ project.
We are working with a local Forth Valley Sensory Centre which serves this area of Scotland, and a Visually Impaired (VI) and Blind group. They're contributing their voices to the project and piloting how this project can draw on VI perspective and explore Audio Description as an art form.            Some pics below (video coming soon)!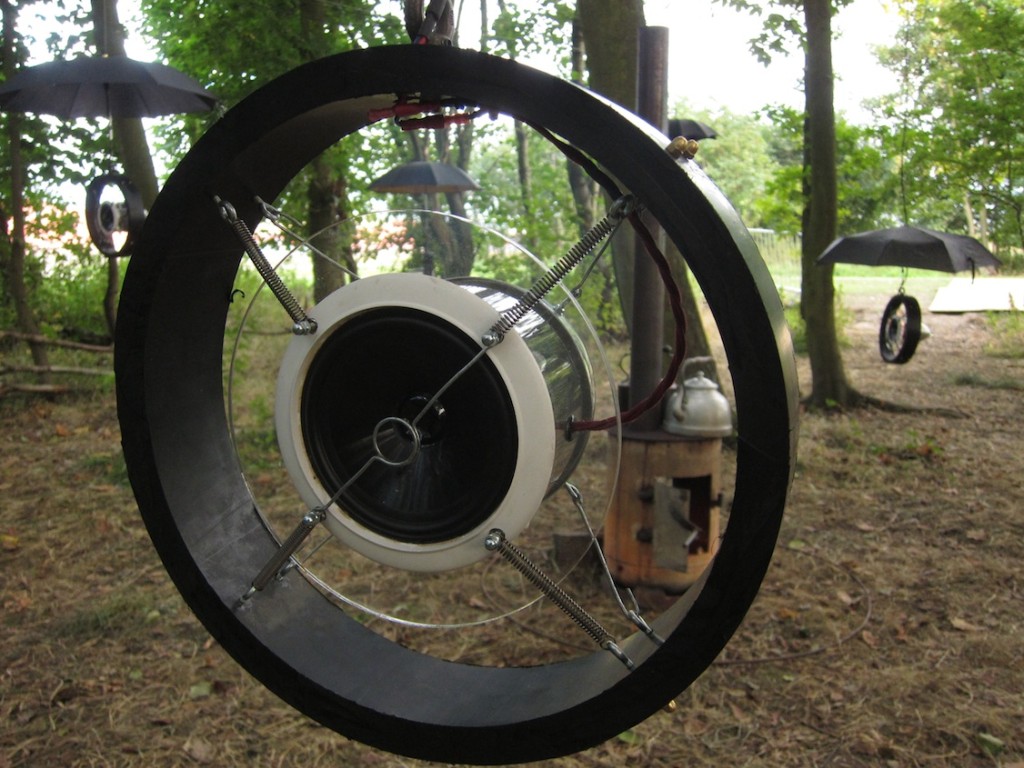 ____________________________
The Speakers on Ayr.  @ Burns an' a' that! Festival 2013. UZ & INSITU commission

NEXT PHASE in Development Process: New 3D Design;  Advanced Rigging System and trial working with Both Archives of Non-Digital Text Juxtaposed with Tweeted Texts: – here Robert Burns Revolutionary Writing & Prose 'v' Tweets sent from Tahrir (contemporary form of revolutionary writing), also 'spoken' in Scottish local vernacular.
THE SPEAKERS.. – Stemming from the project Boiling Point
Manifestations in Budapest as part of City Noises & INSITU @ Placcc Festival Sept'12.
Having received R&D funding from With Out Walls (consortium of UKs leading Arts Festivals) and becoming part of City Noises ( a European cultural exchange project linking London, Helsinki Budapest. http://citynoises.org) the project Boiling Point has evolved a new title and a shift in focus toward the emergence of this flock of people speaking (rather than texting). The New title is  'The Speakers..'
In the last week of September a small sorté of 'The speakers' manifest themselves in 2 locations in Budapest: Batthyany Square, bang across the Danube from Parliament (as a part of City Nosies) and also behind the old Merlin theatre in downtown Pest (as part of the INSITU meeting).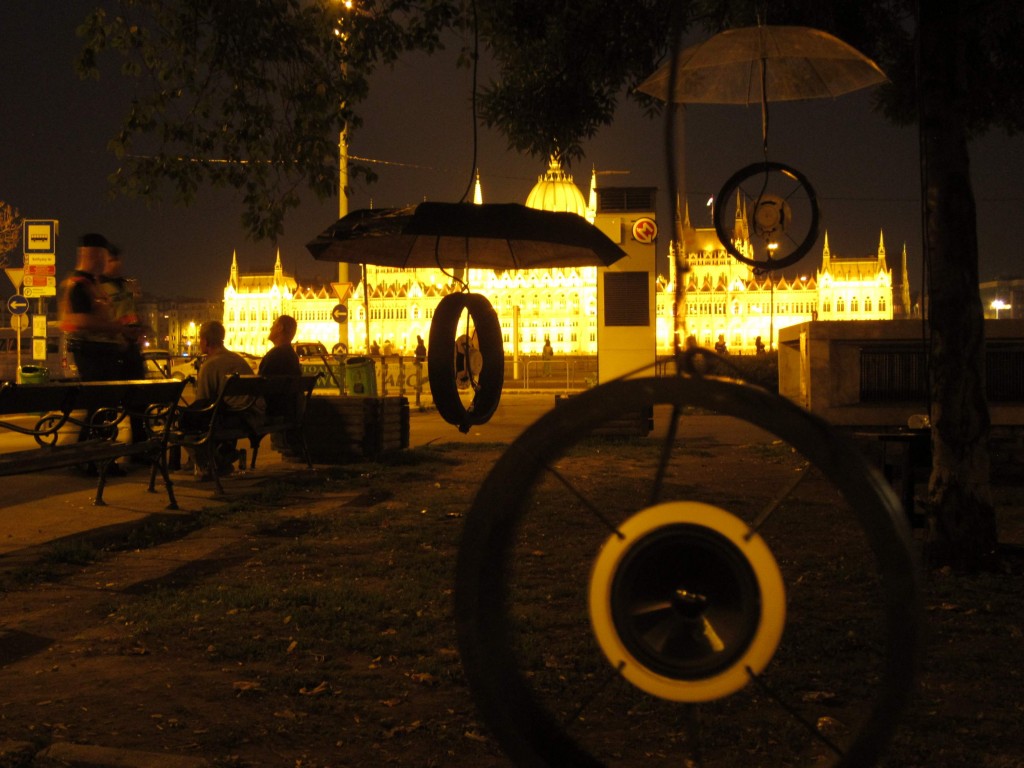 Batthyany square was a bizzaar and brilliant location, with the Parliament glowing gold as a backdrop, whilst police pressed local drunks for identity cards, commuters stumbled into a cluster of floating smokey voices speaking from #jan25 Tahrir square, meanwhile a couple of live roaming readers searched live Tweets to read into the mix in Hungarian..
This trial outing in Budapest also served to plant the seed for next years Placcc Festival , where we hope to stage 'The Speakers.." in a fully imbedded form for a Hungarian post-communist society vernacular.
More to follow on this.. 

Concrete Inferno / The Fire Gardens this week at The National Theatre – 24-26 July 2012
9-11.30pm
Setting Light to the National Theatre for 3 nights Only..
Swing by the Southbank this week and wonder amongst flames, a fire garden by the TWF, sets the NT alight and accompanied by a 2 hr mix by yrs truelly.
A medly of sonic gurgles, sizzlin soundbites, and flame grilled tunes, spiced with a sprinkling of the words of Marlo, surveying the Thames as it flows out to the furthest edges..of the earth .. ".. like an interminal waterway.."..  -No one sets the tone of the Thames quite like Joseph Conrad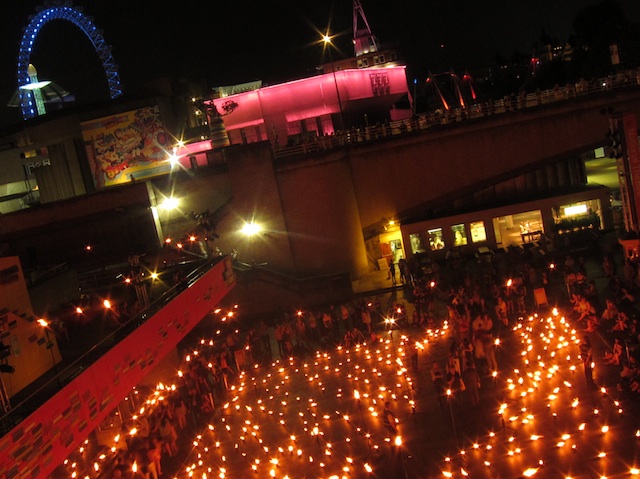 http://insideout.nationaltheatre.org.uk/
Short lickel video here:
2012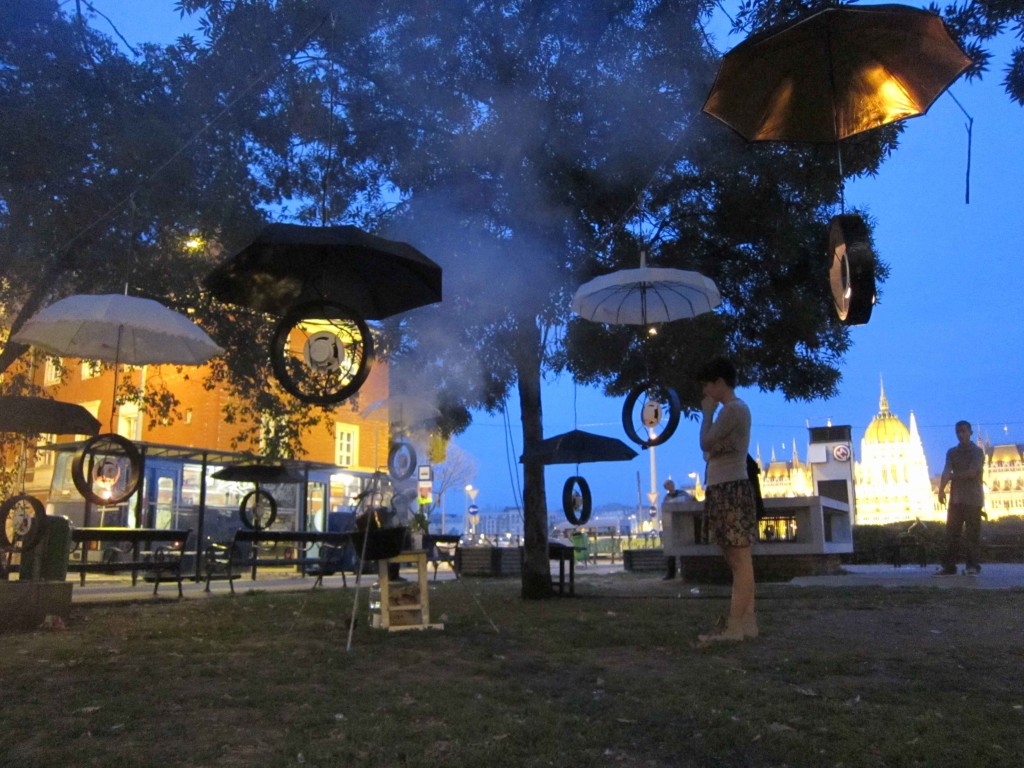 • The Speakers. @ Batthyany Sq, Budapest, as part of City Noises in Placcc Festival.   A pilot of the new installation stemming from the project Boiling Point. A
Video Link: http://vimeo.com/53951936
• City Noises. 3 Cities EU Arts project (London -Stream Arts & Ravensbourne; Helsinki -Crucibe Studio; Budapest -Szövetség'39 ). Presentation of work in progress from ' Boiling Point v2', @ Batthyányi Square, Budapest Sept 23rd as part of City Noises in Placcc Festival. A
• Boiling Point v1 (Current aswarm project). IN SITU & META (EU) commission for Atelier 231, Rouen, France, as part of Fish & Chips #3.  Also awarded Writing Aid grant to develop project over 2012. -A 48 channel Sound, light & form Installation.  -A voiced manifestation of revolution drawn from Twitter, designed to occupy public spaces and gather in 'followers'in the flesh. -Fresh mint tea included.. AP
Video Link: http://vimeo.com/46062594
• Boiling Point v2.   WithOutWalls R&D Commission (Aug-Sept) and Residency @ Stream Arts, London. Researching & Developing the concet, content, form and technologyfor the next stage, to incl: Live streaming and Audio Description and design for a touring model.. AP
• Orchitecture @ House Mill, London.
-Exploding the orch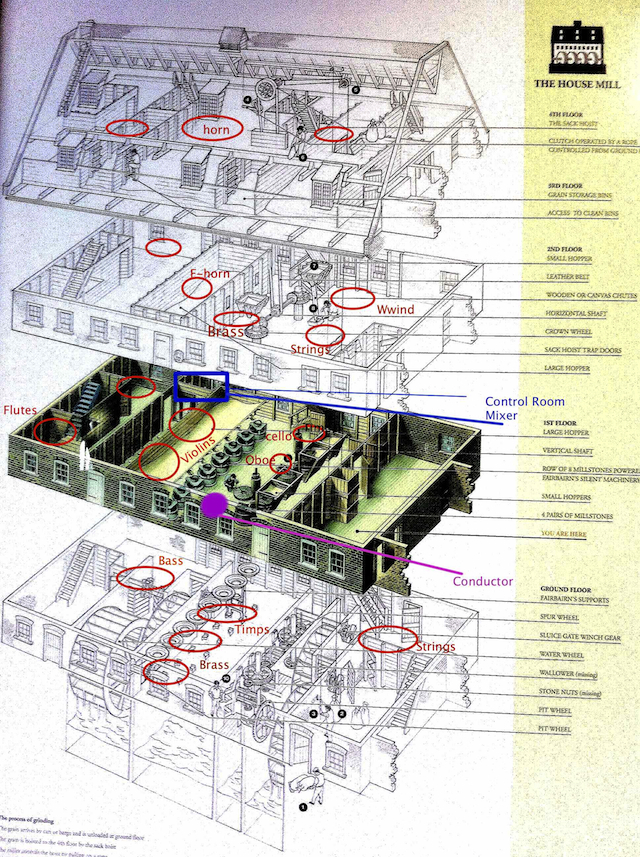 estra and creating a symphony to walk within. 3rd and largest incarnation of this orchestral installation project.
Orchitecture -over 5 floors of the oldest Tidal mill left in existance. Realised in collaboration with the New London Orchestra (NLO) and Newham Youth Orchestra. @ The House Mill, London, June. A Site-Specific Orchestral Installation. 40 musicians, 20 CCTV monitors, Conducter by Ronald Corp, live camera and mics. AP
• SiloD.  SD with The World Famous (TWF).   Site-specific architectural animatio, pyro, fire, Sound, performance. Launch of Lodon Pleasure Gardens. And Cultural Olympiad.
• Bridges. SD. Collaboration with Ragroof Theatre (UK) and Cie Venaval (France). Site-specific show, touring, inspired by immigration and evolution of Tango in the Convantillos.  SO! Festival Skegness , 29-31 June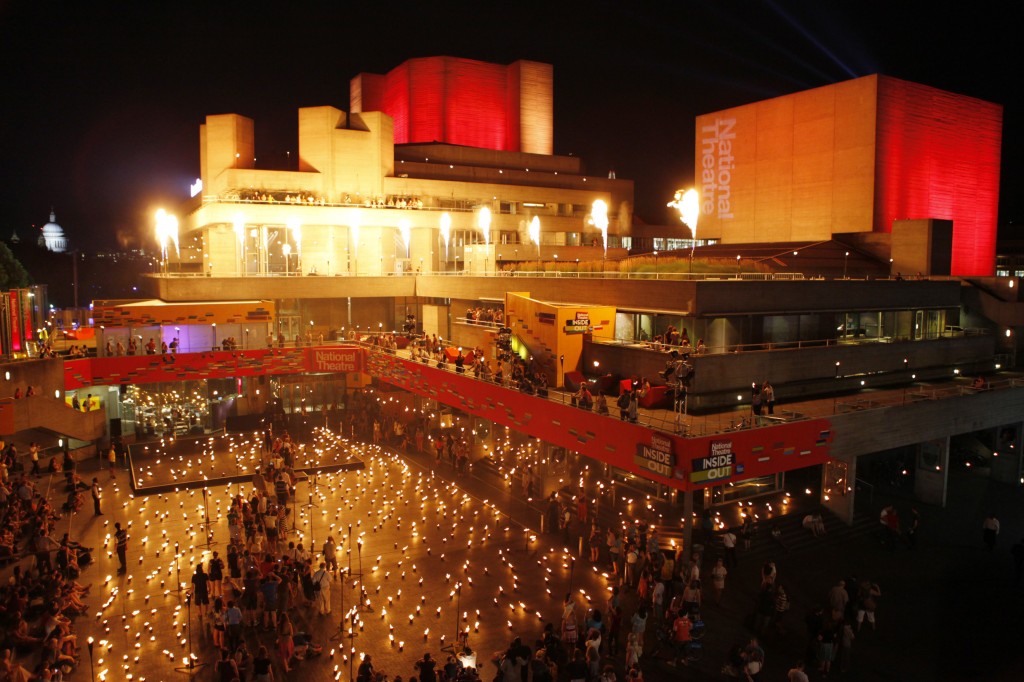 • Fire Garden – Concrete Inferno. Watch This Space, National Theatre Architectural Fire & Sound  installation, London. SD  with TWF, wk of 23rd of July.

• Sound in Architecture . Lecture & Site-specific workshops. School of Architecture, RWTH University. Aachen, Germany. Part of the team establishing a new MA course in Architecture & Sound @ RWTH. June. A & SD
• Bee Detective, Tin Bath Theatre Company. Cultural Olympiad touring show for Deaf & hearing children & families. Incl Design of a Vibrating Floor.  Touring from May. SD
• Sweet Smell of Success  with BOSI.  New touring show, gathering the sweet smell of success from around the nation to feed the British Olympic team..  Incl Vibrating interactves. SD.
• Sensory Garden. Charlton Special School. Sound & Light arena new installation. AP
• The Wall. New work in Development. Collaboration with Choreographer/Aerialist Lindsey Butcher & Director/choreographer Darshan Singh Bhuller. SD
• Visiting Lecturer @ Birkbeck. MFA Theatre Directing. – Sound Design Knowhow. SD
• Ghost Roost. BBC Radio 4 Nature prog, revisiting our project with the West Pier and its straling bird colony, a collaboration with Chis Watson. Prod by Sarah Blunt. A
LINK: http://www.bbc.co.uk/programmes/b019f9hf
2011

• New World Order. SD. Hydrocracker production, a series of Harold Pinter plays made site specific, within institutional buildings of power. Inc;: Brighton Town Hall (B'ton International Festival, May) and Shoreditch Town Hall, London (Barbican commission, Nov). Guardian & Independant 5* stars.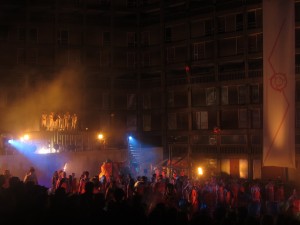 • Slick. National Youth Theatre. SD. Large-scale site-specific performance animating the infamous Park Hill Estate, Sheffield and transfomrign the estate into a ship and distopian colony. A promenade and installtion perfromance spanning 4 disused Tower blocks and outdoor gardens, -a massive undertaking..
• New World Order. SD. Hydrocracker production, a series of Harold Pinter plays made site specific, within institutional buildings of power. Inc;: Brighton Town Hall (B'ton International Festival, May) and Shoreditch Town Hall, London (Barbican commission, Nov). Guardian & Independant 5* stars.
•  'Watching Over You'. With Gravity & Levity. Sound Design for Aerialst/choreographer Lyndsey Butchers site=specific piece for the launchof South East Dances' new studios in Hextable, Kent.
• 575 Wandsworth Rd in Film.  National Trust commission to capture the essence of Khadambi Asalaches House in Film & Music. -A touring exhibit and online resource.  A.
http://vimeo.com/42393441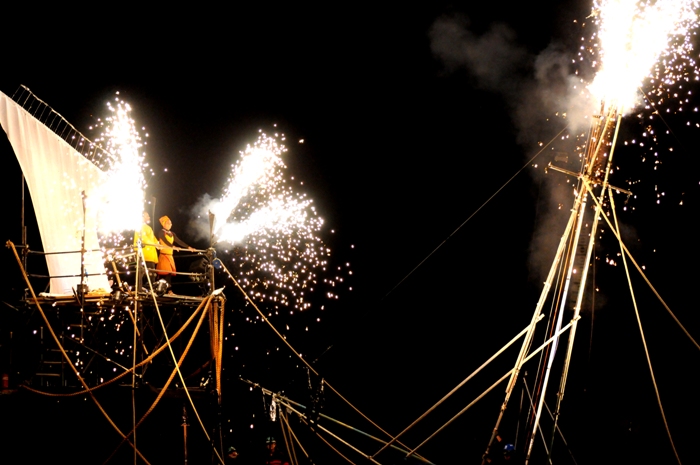 • All Hands. SD.  New outdoor touring fire show with TWF (son-et-lumier) in collaboration with Ku-da-mix Orchestra (David White and Kuljit Bhamra). Fuse Festival , SO Fesitval.
• Bridges. SD. Collaboration with Ragroof Theatre (UK) and Cie Venaval (France). Site-specific show, touring Multi-story Carparks, inspired by immigration and evolution of Tango in the Convantillos.  Scénes Du Rue, Mulhouse, France & Stockton Int Arts Fest.
• A Child of the Boundary.  Artist project with FOAC and Virginia school, creatively mapping the Boundary estate, Shoreditch (former Vicrorian old Nicol Slum), from the perspective of its children. A
• Water Everywhere. Creative Partnerships Change School,s artist in school project, x-whole school. Developing alternative teaching methods, creative use of ICT and outdoor learning. A
• Sensory Garden Journeys & Dynamic Self-Portraits. Artist project with Charlton Special School, developing interactive sensory garden, and creative learning modules which utilise it. AP
• Visiting Lecturer Birkbeck. Understanding sound Design, MFA Theatre Directing. SD
• Visiting Lecturer Central St.Martins. MA in Communications Design. A & SD
2010

• Listening To The House. National Trust Commission. -A sonic interpretation of Khadambi's Asalaches House, Lead artist (with BA/MA students). Installation 2010. A
http://vimeo.com/15016538   http://khadambiasalachehouse.tumblr.com/listeningtothehouse2010
• Marine Parade. SD. A new commission with Olivier Award winning playwright Simon Stephens and California's infamous songwriter, Mark Eitzel (AMC). B'ton Fest '10.
• Refugees of a Septic Heart. Artist architectural sound collaboration with Tom Dale Dance company and composer Shackleton (Berlin). NNF10 commission. SD
• Castles in the Sky. SD TWF, Bestival Isle White, Installation & bonfire pyro spectacular.
• The Importance of Being Earnest. New Wolsey Theatre, SD commission. SD
• The Big Dance. SD with Choreographer Charley Morrissey & South East Dance.


• Stanley Picker Gallery. Exhibition of work with 5 artists, 5 schools, 5 cultural orgs. A
• Associate Lecturer @ Central St Martins, Interactive Design MA. A & SD
• Associate Lecturer @ Birkbeck College, Theatre Directors course. SD
• Sound For Site-Specific Theatre. Module lecturer @ B'ton Uni, MARVA & PARVA, BA's. A & SD

• Full Circle. SD and MD collaboration with TWF and Slovenia's Terra Folk band.  Milton Keynes and Lisbon Festival, Portugal.
• Segro Young Artists. Award winning (Arts & Business Community Award). Lead Artist, Sacred Heart High School, London. Incl exhibition @ Royal Society of Arts. A
• Shout If You Are Scared. Partnership with Shout young peoples special needs theatre group@ GLYPT. –Stream Arts Commission. -Exploring Foley SFX and Sound Desgin. A
• Artist in Residence Arts-week. Charlton Specail School & Sensory Garden. London.
• Creative Partnerships project. Sound & Light SOW, with Yardley School, London. A
• Artist in Residence Arts-week. @ Alexandra Infants, London. A
• Pepys Fire. Creative Partnership project. – Sound, video, action. Heathbrook School, London. Exploring Fire through sculpture, burning, performance and film. A             http://vimeo.com/15970901   http://vimeo.com/15973893    http://vimeo.com/15973220

• 5x5x5= Creativity. Lead Artist on project engaging boys in the arts, through a partnership between school, park and artist. Discovering ways of incorporating imaginative play, action drawing, shadow puppets and 3D painting. Alexandra Infants. A
2009

• Crackers. Singapore, June. – Northampton Sept '09.   Surround Sound Pyrosonics and score for this large scale touring pyrotechnic show with TWF. For 10K audience. SD
• Sensescape Event. At British Music Experience BME with SpacePilots, o2, London. A

• Trinity. SD with TWF. Sound, fire, light and Performance & Installation within the burnt out shell of Trinity Church, Stockton Int Riverside Festival SIRF (fri/sat). Plus Festival Finali bursting and rising out of the church for audience of 12K (sun).
• Full Circle. Collaboration with TWF and Slovenia's Terra Folk band. Sorte D'Ville, Rouen, France, June. And inaugural SO Festival Finali, Skegness July. SD

• Radio Stars. Stream Arts Commission with Charlton special needs school            – Establishing a School Radio station,  live perfrormance for radio, an exploration of Greenwich via sound creating shows for  local youth radio station:  Fresh FM's RSL license (April-Aug). A
• A Christmas Carol. Southwark Playhouse Site-specific show. Dec. SD.
• Erpingham Camp by Joe Orton. Adapted by Hydrocracker, as a site-specific play on Brighton Pier, for Brighton Festival, May 2009. -Sound Designer. http://www.hydrocracker.co.uk/past.aspx#
• Rubble Music Workshops.   With Virginia Primary School, exploring how the approach & methodology of developing site-specific art can be used as a teaching model and way for schools to investigate their environment. Resulting in a short film. A. Jan-march    http://vimeo.com/16022911
• Making the Invisible Visible. Creative Partnerships Project with Harrington Hill School. Jan-march. Developing teachign methods using animation and performance to understand electricity http://vimeo.com/15972527. And creating a filmic performance from  Hindu Holi. A.  http://vimeo.com/15972015
• Making the Intangible Tangible. Creative Partnerships Project with Chingford Secondary School. Jan-march. Developing interactive and investigative teaching methodologies to understand Sound & Light. A.  Developing alternate classrooms. http://vimeo.com/16022421
• Sound 4Site-Specific Performance. Lecturering Module @ Bton University. A & SD
• Sensory Garden 2nd Install Phase and staff training. Design and build of outdoor creative Learning space @ Julian's Primary school, London. A & SD
2008
• Rubble Music. Arnold Circus Bandstand, Shoreditch, London. A Measure Arts Commission for Concrete & Glass Festival. SS installation using seismic & infrasound recordings of this site, installed in Bandstand. -Sound, light and structure.   A
http://measure.org.uk/exhibitions/rubble-music-thor-mcintyre-burnie/#
• Full Circle. Collaboration with TWF and Slovenia's Terra Folk band. A touring outdoor show. Big in Falkirk, London Docklands, Riverside Stockton, and Turin. SD
• Sensory Garden Design. Design and build of outdoor creative Learning space @ Julian's Primary school, London. Creative Partnerships. http://vimeo.com/15996080

• Makin History on a PS3.  PVA & Bridport Museum, Dorset. -Sound and Video installation for Bridport Museum, and Site specific Interventions, made in response to local young folks desire to create a moment of history today for the futures youth. A collaboration with  Artist Duncan Whitley. A
• So Close To Home. SD, new theatre play by Mark Wheatley. Arcola London and B'ton Festival.
• Liquid Air. Blank Gallery. 3 Audio-works presented for Bton Int Festival. A
• Sound 4Site-Specific Performance. Lecturing Module @ Bton University, BA PARVA
• Tree Things. Workshops and development of green playground area @ Beormunds Primary School for challenged kids, London. Creative Partnerships. A
• Meltdown. Sound Design for touring street show, TWF and Cartoon D'Salvo. SD
• Watch This Space, National Theatre 10th B'day. Sound Design with TWF.
• Light Up Dover. Launch of Cultural Olympiad and Torch Arrival Ceremony bid. Sound Design for massive land sea pyro show with TWF. SD
• Creative Learning Workshops with staff from Julian's Primary school. A
• Inconceivable. Short Film by Tom Williams & PVA. Sound Recordist /designer.
2007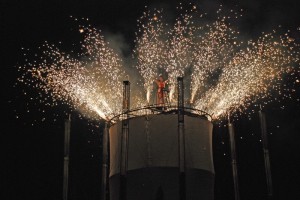 • Crackers III. Sydney Festival. Collaboration with TWF pyrotechnic arts company. An epic new show, using pyrosonics in surround for audience's 3- 10K. SD
• A Tonal Time Twister. Pallant House Gallery Commission. In interactive lift installation using a specially commissioned recording of Schoenberg's Pierrot Lunaire, pressure pads, coloured light and lift movement sensors -A musical journey in time and space.  The score plays only when the lift moves. Instruments are only heard when a coloured square is stood on. Instruments emit soudn & a light colour. Lift passengers are invited to play a game of Atonal Twister.. A
• Ear Eye Music. A series of workshops with 2 Deaf schools and the NLO Orchestra; developing awareness of sound & music, and exploring ideas for non-sonic music.
• Orchitecture. Pallant House Gallery A Site-specific orchestral installation, exploding the orchestra and Mussorgsky's Pictures at an Exhibition around the various rooms and floors of Pallant Hosue gallery, creating a symphony to walk within and a transformed synaesthetic gallery experience. An Artist Residency Commission for Eye Music  with musicians from the New London Orchestra (NLO). A


• New World Order. SD wih Hydrocrcker, a site-specific series of Pinter plays, set in 4 floors of Brighton's Town Hall. B'ton Festival Commission. Guardian and Independent 5*stars.
• Gather. In collaboration with Toby Jarvis. Commissioned by Without Walls. A touring installation within urban trees, using sculptural entities, light, kinetics and recordings of insects in Japan and the substation at the Tate Modern. Commissioned by Without Walls, for Brighton Street arts Festival, Manchester Extracts, Winchester Hat Fair, Greenwich & Docklands and Stockton SIRF festivals. Guardian 4*stars. AP

• Sound 4Site specific performance. Lecturing Module @ Bton University, BA PARVA
• Sound Sight. An ongoing series of workshops with the New London Orchestra and 2 schools for Deaf children (Oak Lodge and Blanch Nevil, in London.). A

• Outdoor Classroom Design & Build.  A 4-month project, developing a creative learning space within an unused wild space at Julian's Primary School, Lambeth. ACE & Creative Partnerships. A http://vimeo.com/15996080
• The Art of Sound in Space. Lecture series as part of liveartgardeninitiative.org.uk. Part of artist review series: Immersivity, Art, Architecture, Sound and Ecology. A
2006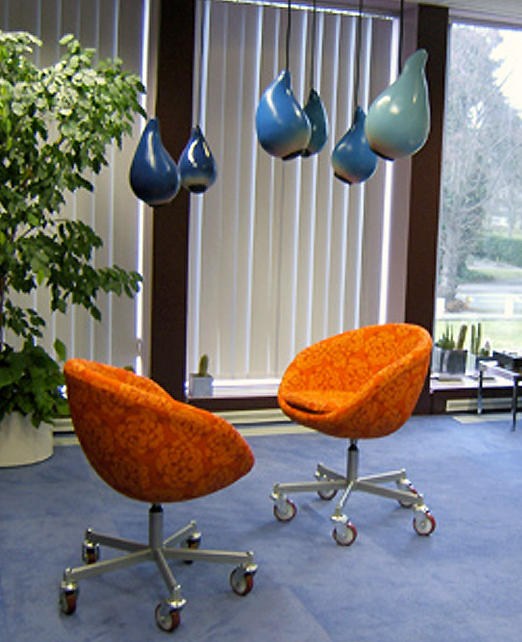 • A Conversational Gym. Uniliever Commission. Design and install of a permanent installation space in Unilever's  Wilton on Thames HQ Site. Each pod carries a voice in conversation with another pod, from an initial melay of voices it settles into one of many conversation s between 2 pods. Each Pod pulses with light as they speak. AP
• "Get Lost". Touring internationally since 2006. fake Maze poulated by a bizaar cast of misfits. produced by Dot Comedy. Sound Design = a surround atmoshere, hidden voices, flatulant minataurs, birds, clippers and an old wirelss (12 channels of sound immersive composition). SD
• Crackers II.  SD with TWF. Developing last years B'ton Int Festival Finali spectacular into a full circle surround show for 10,000 people.
• If This Space Could Speak. Creative Partnerships project with IAMS School, London. A

• Where The Land Meets The Sea. The Big Dance SE'06. Collaboration with Choreographer, Charlie Morrissey. An insitu performance representing SEDance in a nation wide event. July 15th. SD
• Ants. Workshops and performance with groups in the Peak district and TWF pyro. SD
• Spotlight. –A collaborative performance spectacle, incl aerial work, group performance, video, light, pyro and sound. Camden, London Sept.SD
• Live Tree Dead Tree. –Sémi –Zoku.     An Art trail commission for the Big Chill '06. An Installtion for 2 trees, one alive and populated by a colony of strange pulsing forms, that chatter with strange insect calls and green light (recorded in the Mnts of Japan). Every hour they become increasingly excited awakening  a static sub rumbling crescendo from the Dead Tree, which eventually explodes in a flash of lightening and smoke! -Then the cycle resumes. Sound and light inhabited trees. The precursor to Gather.  AP
2005
• Ear Eye Hana-Bi   -Painting Flowers in the Ears & the Sky. April-Dec.  A research project (South East Arts and the Sasakawa Foundation Japan). –Into the sonic potential of pyrotechnics. Incl. research trips to Japans Hanabi season and Valencia's Fallas. A
• A Pier 2.  In Collaboration with Chris Watson. Commissioned by Measure Arts as part of Me and My Shadow  @ Wilton's Music Hall, London. – An 8-channel sound installation. Transposing the beautiful environs of London's oldest Music hall with sonic environs of the derelict West Pier and its starling colony. (measure-arts.co.uk). A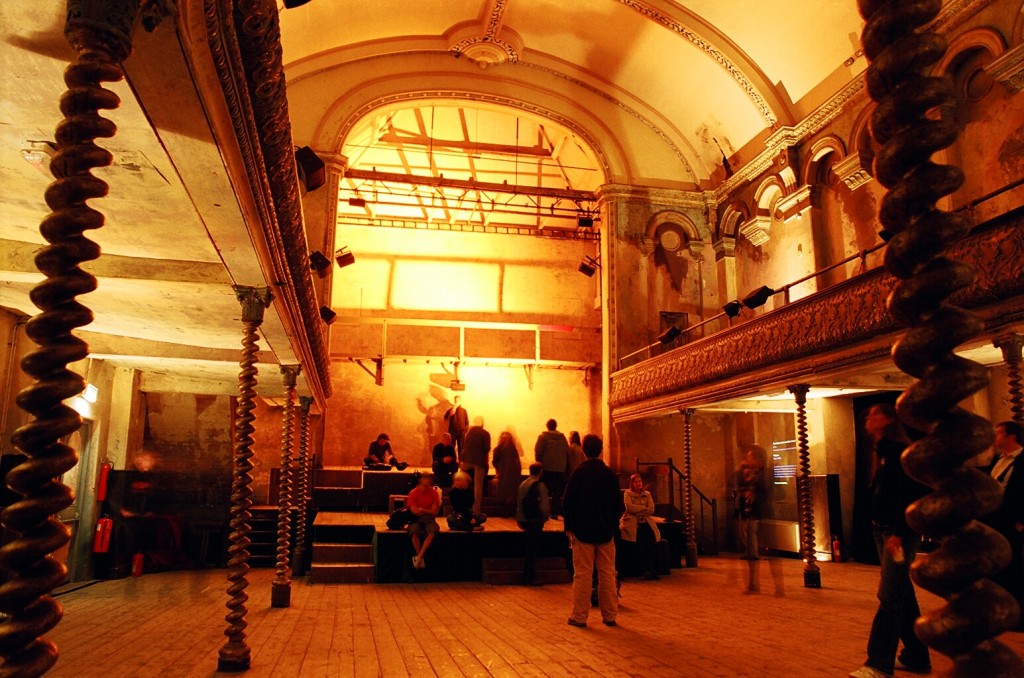 • Crackers. Collaboration with The World Famous (British Pyrotechnics company). The Brighton International Festival Spectacular @ Brighton, May. (5000 people). Part of an ongoing project, developing a pyrotechnic and sound surround symphony. SD

• Sound Mirrors. Commissioned by Creative Partnerships and Lis Autegena. A project with the concrete WW2 sound mirrors built along the south coast.. – Workshops with St. Edmunds School, Dover. Culminating in an installation at Martello Tower 3 @ Folkestone. A
• Anthem for Oak Lodge School for the Deaf. June. Workshops in collaboration with The New London Orchestra and a RNID Deaf school .A

• Braver Conversations.  Unilever commission with The Dialogue Project @ the • Penny Lane Gallery, Kingston, London.   – Installation using intimate conversations Unilever managers. A

• Orchitecture. Commissioned by English Heritage with the New London Orchestra. @ Chiswick House, London. Sept. – The first event of a major new Project directed by Thor in collaboration with Architect Ayssar Arida and The New London Orchestra. – An installation using both live and pre-recorded orchestral musicians, 6 channel sound, and live & pre-recorded CCTV. AP (orchitecure.org)
• The Palm House. Oct. Commissioned Brighton Council and SE Arts, with Choreographer Charley Morrisey, Designer Graem Gilmour, LD Phil Suple.     -A multi-sensory immersive performance incorporating a 6 channel surround soundtrack. A Site-specific night time show within a giant glass Palm House.  A collaborative project (small-wonder.co.uk). **Guardian Pick of the Week.
SD
2002/3/4:
• Blast.  Touring outdoor Spectacular. -2002/3/4/5.   Collaboration with The World Famous pyrotechnics comp. + Peepolycus theatre comp. -2004 Dates incl: Leicester Comedy Festival (Feb), Camden Council, Isle of White. -2003 incl.: London National Theatre, Manchester UFA Champions League celebrations, Rhythms of the City Leeds, Bradford Int. Festival.  -2002 incl.: Festivals of Newark, Bracknell and Bexhill.     *SD
• SoundSpace @ Eureka! The Museum for Children, Halifax.  -A unique NESTA commission to collaborate with exhibition designers, Northern Light Co Design (Amsterdam) and Kiss the Frog.   A new interactive exhibition (500msq + 30 interactive exhibits), which explores sound, music and creativity through state-of-the-art technology. Main Exhibition July '04. Sound Garden Feb. '05.  Swarm Sonics Sound Design commission.   *SD+ A. European Award Winning  – Awarded Best Tourist Initiative for Children 2005 (pan Euro, Les Trophees Kids)
• Frost & Fire. The World Famous pyrotechnics show. (Bedford, Nov.). = Soundtrack. *SD
• Dialogue Project with Leber Faberge.  Commissioned to record employee's voices and create a soundscape event (London, '04).    *A+T
• Creative Minds.  Touring interactive exhibition commissioned by Eureka! Children's Museum, Halifax about science & creativity (April '04). Designed by Northern Light Co-Design and Kiss the Frog (Amsterdam).    *SD+ A
• Bartle Bogle Hegarty BBH 21st Birthday Conference. Nice, France, Sept. 2003.    – Commissioned Installation and AV event in collaboration with Chris Dorley Brown (Photo) & Zibigniewv Jaroc (video) and Trade Secrets. * Commissioned to create series of evolving soundtracks of voices of the 500 employees from 5 countries + short film soundtrack.*A + SD
• The River Runs Through.   Basingstoke. July 2003. -A Same Sky production. – Sound and Music workshops with teenagers from England, France and Germany. (ACE + Basingstoke Council)  -Live performance event at Festival Place.     *A+SD+T
• Storming the Walls.    Newark on Water Festival finale event. June 2003.      -A Same Sky production with Choreographer Charley Morrisey, animating Newark Castle. (ACE & Newark Council) -Spectacular show at Newark castle.    *SD
• Bioscope -Travelling Picturoscope Show.  Touring. 2002/3/4.  Son ilumier theatrical
show, recreating silent Movies live, remixing original soundtracks live and Foley SFX.  –Anglo-French co-commission by: Amien Festival, Lille Festival, Winchester Hatfair, Streets of Brighton and Inter-Reg.  -With Martinez & Fabrega (UK) and Companie Provisour (France).  -Dates incl '03: La Fete dans la Ville Amien, Bethune Zartsup!, Libercourt. '02: Sotteville Vivre Citi Rouen, Lille, Beauvais, Hastings, Streets of Brighton, Winchester Hatfare.  = Musical Director, sound + foley. *SD
• The Speaker. BBC Radio3 & the LIFT Packet of Seeds.  Broadcast BBCR3 22 June 2003. – Radio commission. Collaboration with Leo Sedgley -A scripted soundscape composition, based on fictional fathers awareness of sudden loss of his physical body in an explosion, a sons attempts at comprehension, and memoirs of Blind Author John Hull. – -A response to news coverage of the invasion of Iraq.*A
• 'Sounds In Space' + Music and the Mind. Collaboration with New London Orchestra (NLO). NESTA commission – Installation & seminars @ Bloomsbury Theatre, London, Mar '03. – Incl workshops with Oak Lodge RNID, Sunshine House RNIB schools and Age Concern. *A+T
• Sonic Snow Sculpture.   Canada & USA, Jan/Feb 2003. -North-South Passage Snow-Sculpting festival.  – Team representing Britain, in 3 Int. public art contests *A.  Also a BBC Southern Video Nation commission and British Airways in-flight radio commission.
• The Little Match Girl.   Oxford House,, London. Nov 2002.     Streets Alive Theatre Company, The World Famous & Oh!art.  -Site spec theatre in a road. Incl stories and experiences of 3 homeless participants, in a Hans Christian Anderson's tale. *SD+T
• Angel.   Pyrotechnic show with TWF. Winter '02 -Lewisham  + Tunbridge Wells.    *SD
• Babel Fishing.  UCL, London. 2001-3 (in Development). Collaborative Art/science research project with Linguistics + Phonetics dep. UCL.-Leverhulm Trust shortlist ('02), SCIART shortlist ('01) –Concept of Hybrid + vocal identities.    *AP
2000/01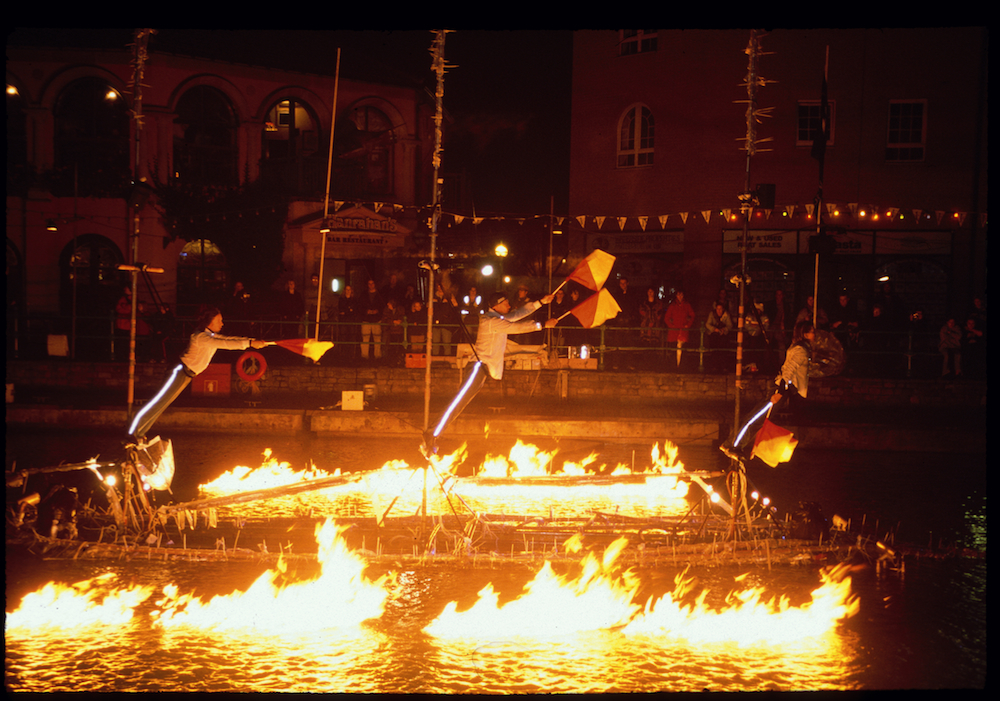 • Divers.  Oct 2001. Brighton Marina, UK.  Same Sky Production, with Choregrapher Charley Morrissey, designer Graham Gilmour and pyro TWF.  -2 live public performance events based under, in and around the water.    *SD+A

• Nattvakten.  Sweden. July 2001. Godnatt lighthouse fort. off the coast of Sweden. Collaboration with Reich & Szyber and Peter Bjurman. Commissioned by Riksteatern of Stockholm. 
-Design & composition of a 24-channel soundtrack for 24 loud speakers hidden around 4 floors of an C18th light house fort. -A 45minute walk-through installation, commissioned to launch the sites opening to the public, as part of the Water Museum. A
– * An inspiration for Orchitecure.
• Music4Pigeons.  May + Sept 2001. Night time at the West Pier. Brighton – Brighton Waterfront Fest commission. live performances -music, sound + light  animate the pier. AP
• A Piering.   Oct '00 -May '01 Artist Residency @ West Pier, Brighton.   Year of the Artist Commission.   -Audio-visual creative documentation – Interventions -Artistic advisor. -Collaboration with the Chris Watson recording the starling colony and documenting the pier before its planned renovation and unforeseen arson & collapse.. AP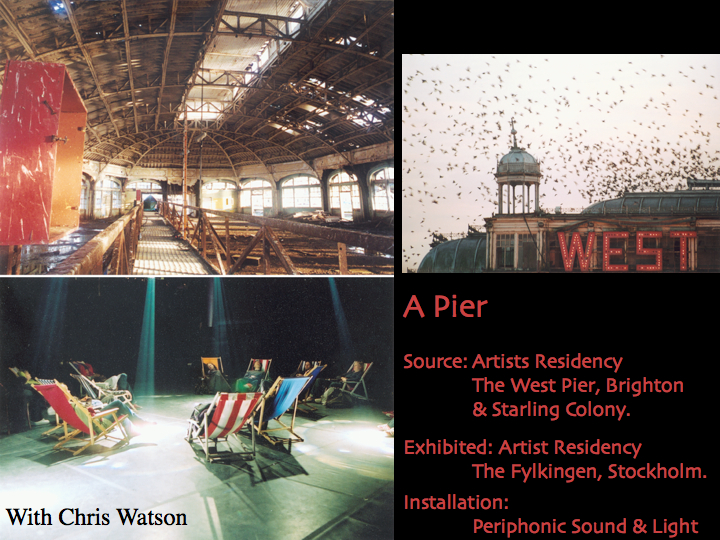 • A Pier.    Apr 2001. Artist Residency @Fylkingen, Stockholm, Sweden.    -Periphonic sound & Light. -Collaborative artist residency with Chris Watson @ the Fylkingen -Following the migration flight of the starling birds from their winter roost in the UK to Sweden, we transposed and compressed 24hrs of the the West Piers concert hall & Starling colony into a 1 hour periphonic  installation in the Fylkingen. AP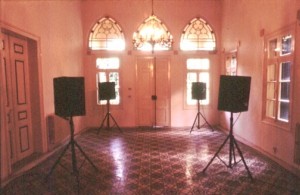 • Intermission @ Samaha House.  Feb-March 2001. Beirut, Lebanon.  (ARP). Commissioned by British Council and Ashkal Alwan.– An Installation + run a series of  audio art workshop exchanges with Lebanese artists, introducing them to sound & site as art.  public seminars and lectures @ Samaha House and American University of Beirut. *AP+T
1998/99

• Livestream.   Oct-Dec '99 .  Artist Residency Digital Studio, Junction, Cambridge + Gaialive, London. Plus CD release on cover of Mute magazine, Jun '00.  Series of 11 weekly 1hr audio web casts, based on analysis & re-editing of TV's broadcast flow and R.E.M time. I Remixed extracts from the broadcast flow in 24hrs to create a kind of broadcast dream space, to engage with audiences collective memory. A – Produced by Chris Dorley Brown & Zbigniew Jaroc. – www.torkradio.com & www.gaialive.co.uk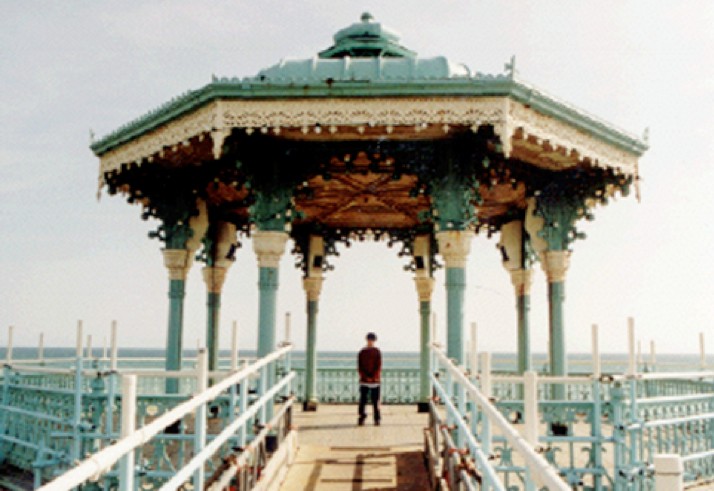 • Sonic SeaAir.  June'98 to May '99.  Kings Road Bandstand, Brighton. (ARP) – Design Build octophonic audio art venue as site-specific public artwork and platform for audio arts, re-opening derelict bandstand to public for 24days (24hrs/day), with a program of audio works commissioned in collaboration with 15 artists, incl Plaid, Susan Philpsz, Chris Watson.  –  SE Arts grants: Art In the Environment & Develop New Venue, Arts Council : Commissioning Grant + Brighton & Hove Council support. Artistic  Producer. AP
• Night of the Living Tongues3.  April '99.  @Junction, Cambridge. Live multi-source audio performance.  Collaboration with musician Sarah Sansom. (ACE  E Arts).    *A
• A Sound Experiment.   Jan. '99. Ray Tindel Theatre, Brighton. Cyclic Performance/installation. A
• Torkradio.   Oct. '98.  www.torkradio.com (ACE + E Arts). Commissioned artist. –72hr live audio webcast. Live-mixing TV news feeds into sonic landscapes. Incl collaborating Anne Whitehurst, Chris Cheek and Jaroc. Produced by Chris Dorely Brown & Zbigniew Jaroc. * Pioneering one of the first Live audio art webcasts, precursing Resonance FM.
• This Afternoon..  May '98.   Kings Road Bandstand, Brighton.. (ARP). Audio installation & performance by 2 ballroom dancers. Sewing the seed for Sonic SeAir the following year. – SE Arts, Brighton & Hove Council.     *AP
1997
• Continuity. Burn Sessions.  Oct/Nov '97. Digital Studios, Junction, Cambridge. + Broadcast on Q103.FM radio station. – Audio piece, remixing TV continuity announcers voice.
• A Sound Peace Of Turf.      Jun. '97. Victoria Gardens, Brighton.  (ARP) Public art work.  Hexaphonic sound from 6 grass turfed mounds landscaped into public gardens, creating a hyer-real physical and sonic arena, and transforming Victoria gardens from ornamental space to a venue for culture & play (Changing Council Policy for the site )  . Brighton Fringe Festival. – ACE Lottery, Ecovert, Bton & Hove Council. 
1996
• Swarm. At Shelton Gallery. Installation of 60 bare speakers dissected from old TVs, suspended in a swarm like formation, channelling the sound of 30 Live TV feeds from Murdoch's Sky TV network. – Creating a means of walking in amongst the broadcast flow and effectively channel hopping through movement.