Award Winning Installation: Best Temporary Installation Project Winner :  Thor McIntyre Burnie/Tannoy (Wind Tunnel Project) – EU wide ProSoundAwards 2015 See more at: http://www.prosoundawards.com/award/#sthash.MDprjTyI.dpuf
OPENS:  10th JUNE – 20th July 2014 
Site-specific commission to  re-awaken the Farnborough Wind Tunnels. 
Commissioned by:  Artliner , Curated by: Salma Tuqan (V&A) .
– An astounding place saved from demolition thanks to FAST 
– Open to public for the first time!
Collaboration with Tannoy.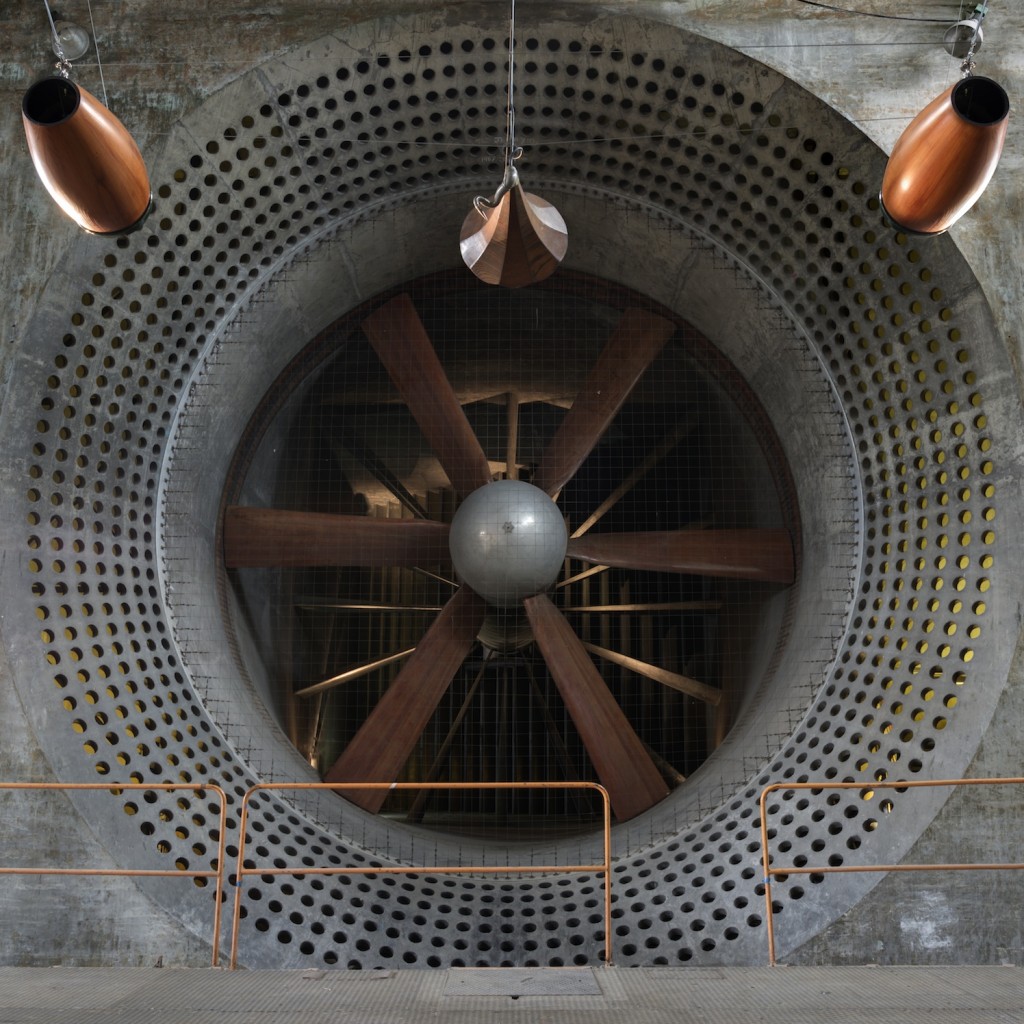 A Short film documenting Flying Into The Dawn, by Shy Camera 
(To appreciate this please put on some headphones or plugin decent speakers)
The work split into 4 Shorter Films without Narration: You can also see the work without narration split into the 4 key zones: Q121 Massive Turbine test area, Q121 inner tunnel space, R52 smaller wooden Tunnel and R52 space where a 3rd Wind tunnel used to live. Here:
** A version with 5.1 surround soundtrack will also be online here shortly**
PRESS RELEASE: The 24 foot Wind Tunnel in building Q121, will be reawakened as an immersive experience through a new commission by artist Thor Mcintyre-Burnie, responding to its historic role and inimitable physical architectural and acoustic qualities. His work here replaces the test plane with serendipitous moment captured in the sky's and airwaves of 1942, when the BBC's annual live Nightingale broadcast (First broadcast 90 yrs ago this May) picked up a whole fleet of Bombers on their way to Germany. Incorporating new choral work devised and recorded within the wind tunnel, his piece fills the vast space with the voices of men who used to work here. This 1942 story then feeds into 3 further works in the R52 building, exploring a moment of anechoic silence;  re-awakening the wooden beast (a further extraordinary wind tunnel) with the darker trajectory of this story, marrying film from the latest research into nano insect drone technology with the growling drone of the FSO's double bass player, also recorded within Q121 and culminating on lighter playful homage to birds and the possibility of flying for the thrill of it.. (more detailed info about below)
---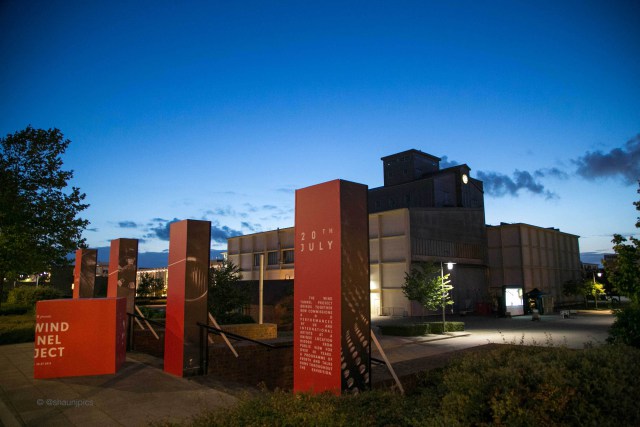 MORE INFO & TICKETS:  http://thewindtunnelproject.com/
---
MORE DETAILED INFO ABOUT 'FLYING INTO THE DAWN' :
Its a funny thing that when you are an artist working with sound you become a 'Sound Artist', where upon the art is often seen as the sonic content.. – yet the thing that attracts me about utilising sound is that "sound does not exist in a vacuum..". 
My work is thus as much about the context, site, materials, light, functions and experience. Its about working with and responding to a particular space and creating interventions that can re-awaken a place with an alternate function. Sound has an uncanny ability to transform our relationship with a space, and when spatially dispersed becomes an experience to explore, by walking within. Its this interplay between the physical and invisible realms that really fascinates me.
Thus within this new project 'Flying into the Dawn' at the Farnborough Wind Tunnels (Buildings Q121 and R52), whilst sound is a key aspect of this project, the work starts from how you enter the first building Q121, the slippers, racks of shoes, wall text "loose lips cost lives" etc..  Then as we enter.. emanating from a physical sculpted source – suspended in place of the test plane – we hear a historic recording captured in 1942. – The day the BBC's annual live Nightingale broadcast was cut, when they accidentally picked up the sound of a whole fleet of WW2 bombers flying overhead.. 
This source then interplays with the more ethereal voices, emanating from speakers hidden within the return tunnel. – These voices are local and many of whom used to work here. 
Human/machine, war/wonder, threat /hope, there is a dichotomy to our relationship with flight. Entering the return tunnel you can walk into the light or dark. I've fort long and hard to keep the darkened end just so, because its here that the semi preternatural experience comes into play, its here that we can re-attune our senses and re-explore anew. – This spot is one of my favourite's..
In R52, this space has a very different feel to the cathedral like qualities of Q121, I felt like it needed a form of pallet cleanser. In the first space there are these lovely anechoic like alcoves, here I worked with the lighting designers, BKKR and food artist Carolyn Hobkins to create a little moment to savour the acoustic qualities of these alcoves. – a moment of pause..
Then the door opens to reveal the next inner space of R52.. Within the wooden wind tunnel, 7 channels of sound work to breath life into this beast and explore some of the curious yet darker sides of this research facility.  I like the idea of this wooden structure awakened like a giant instrument and  exploring the edge of breath and a note. This more complex composition includes the Double Bass player from Farnborough Symphony Orchestra, who – like the voices you hear recorded in-situ in Q121- offers his own interpretation of the ark of the "bombers". – Here it offers both the voice of this vast wooden beast and the counterpoint to the fragile flight of a Drone Beetle..  Surrounding this tunnel we hear a 4 mic spatial recording of a starling bird roost site, just after dawn, stirring the air of the hanger without..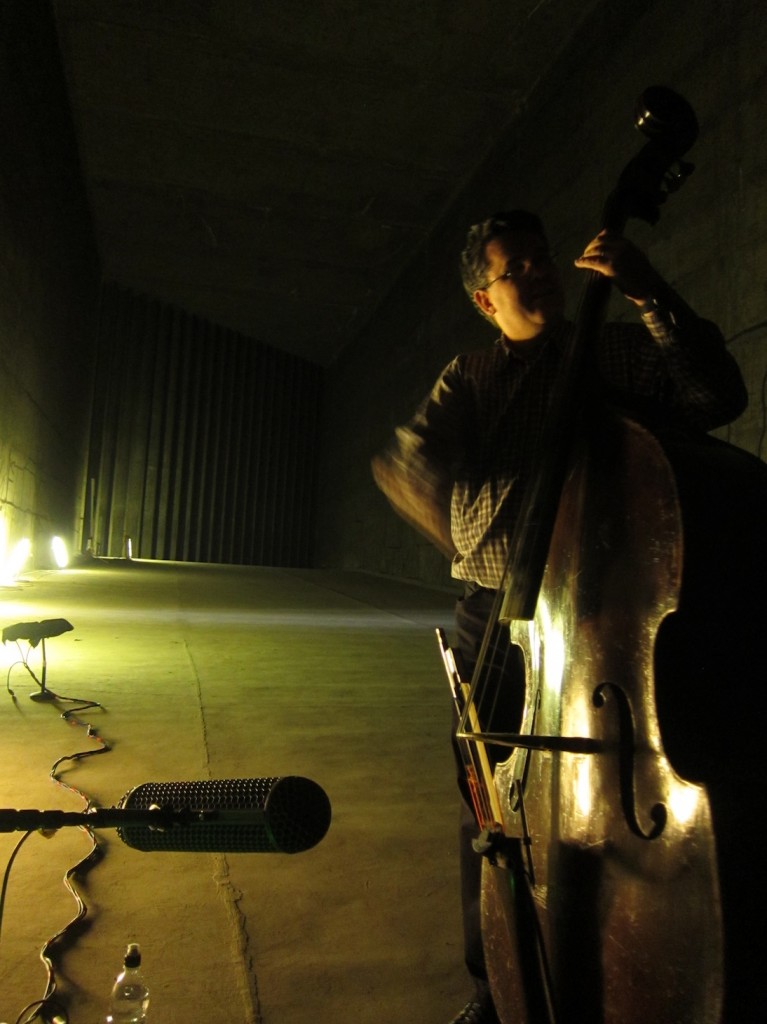 The contemporary equivalent of 'the sound of the bomber' seemed to me to be that of 'drone warfare'. The development of flight, film and surveillance are so interwoven, I felt this notion could be explored via a further layer of film. The video you see projects recent research from a wind tunnel at Aichi Institute of Technology in Japan – where they are studying the flight of a Drone Beetle, for the development of Nano-drone technology. 
 I love the way the Drone Beetle footage is almost like a Muybridge motion-picture, yet is filmed at 10,000 frames a second with the latest high speed digital camera. This ability to zoom into and disrupt the laws of time & space seemed to be what these vast apparatus's are about..
The last space of R52 – the final bright empty hanger where a wind tunnel used to be – felt like it was a space for play and release. Here we can launch our paper airplanes and throw our exhibition guides into the air..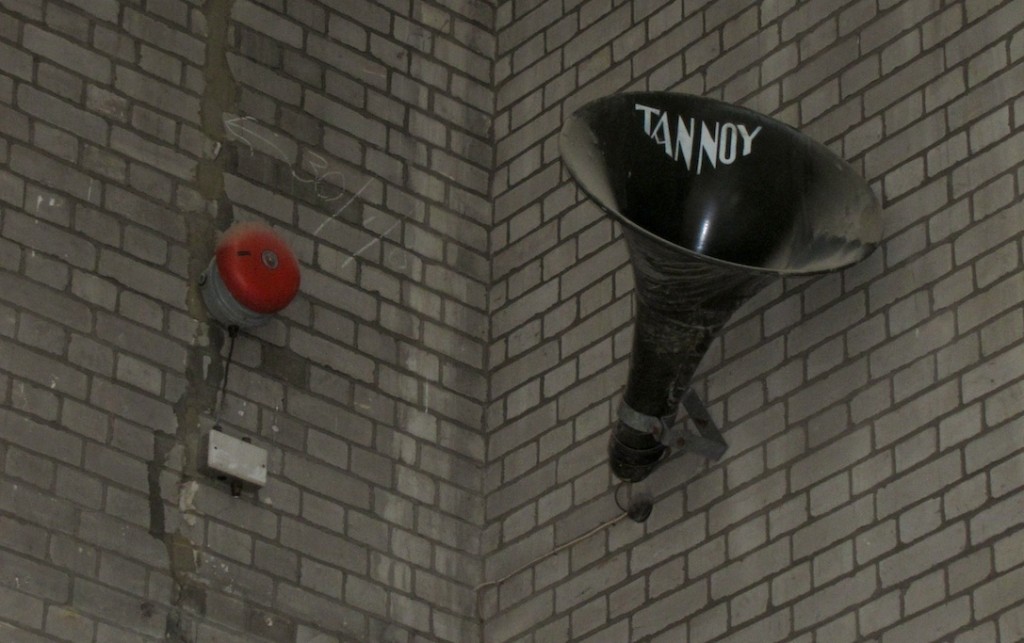 Here any physical structure introduced, becomes a sculpture, even the cables become part of the sculptural form. These hand built Tannoy speakers, sitting astride these old inspection www.mindanews.com/buy-accutane/ towers salvaged from Q121, were specifically chosen, they interestingly represent some of the forefront of their acoustic research and thankfully they agreed to lend them to me.  Deliberately arranged to disrupt the surround sound set-up, they are turned so they explore the reflections of the space, conversing with the walls, panels, windows and old relics of themselves. The idea is to encourage people to listen through the architecture..
I like the idea of these old original Tannoy horns still affixed to the walls here, conversing with their latest heavy weight off-spring. These horns are very much a part of this pivotal period of history, they are what made 'tannoy' a noun in our lexicon like 'hoover'. – They are what gave voice to Winston Churchill's infamous public address..
In this final space the thrill and dynamics of a roller-coaster morph with the swooping murmeration flight of a starling birds (drawing on collaborative work I did with wild life sound recordist Chris Watson on Apier & Ghost Roost, studying a derelict concert hall and its massive starling colony). 
This final space felt a like a place to look at the other side of the dichotomy of flight, and here I wanted to ask the question "Do birds ever fly simply for the thrill of it?" 
---
LIVE ORCHITECTURE LAUNCH EVENT @ 7th July 2014 only.
As a part of the Launch event for The Wind Tunnels Project I staged a series of short Orchitecture performances, spatially dispersing musical works and musicians around the building:
• Taveners V. Advaita Vedanta 'The Still Point' from Requiem, spatially composed for Liverpool's modern Cathedral. This piece became a reference for many of my trials in Q121. It seemed to so gently coax the cathedral like qualities of this space, rising up into that still space above the clouds..     
Its a very short piece so we repeated it at intervals in the cycle of my recorded work, when it dropped down to just the nightingales.  I placed the cellist inside the Return Tunnel next to the upper Wind Veins, then split and moved the 4 voices around the return tunnel, placing the lead Soprano beneath the giant 24′ fan.
– The result was astounding and lifted the whole experience to another level, with many audience describing it as a quite profound experience. People said the hair on their necks raised each time, whilst some eyes filled and they were transported to a really quite special space..
• The group of men from the

 RUSHMOOR MALE VOICE CHOIR,
many of whom had careers on site and even in Q121, also  performed their response to the bomber raid live within the wind tunnels filling the return duct with their voices and re-enacting their contribution to the recorded installation work. To quote a member:
"Never in my wildest dreams did I imagine I'd be back here 40 years on singing into the wind tunnel!"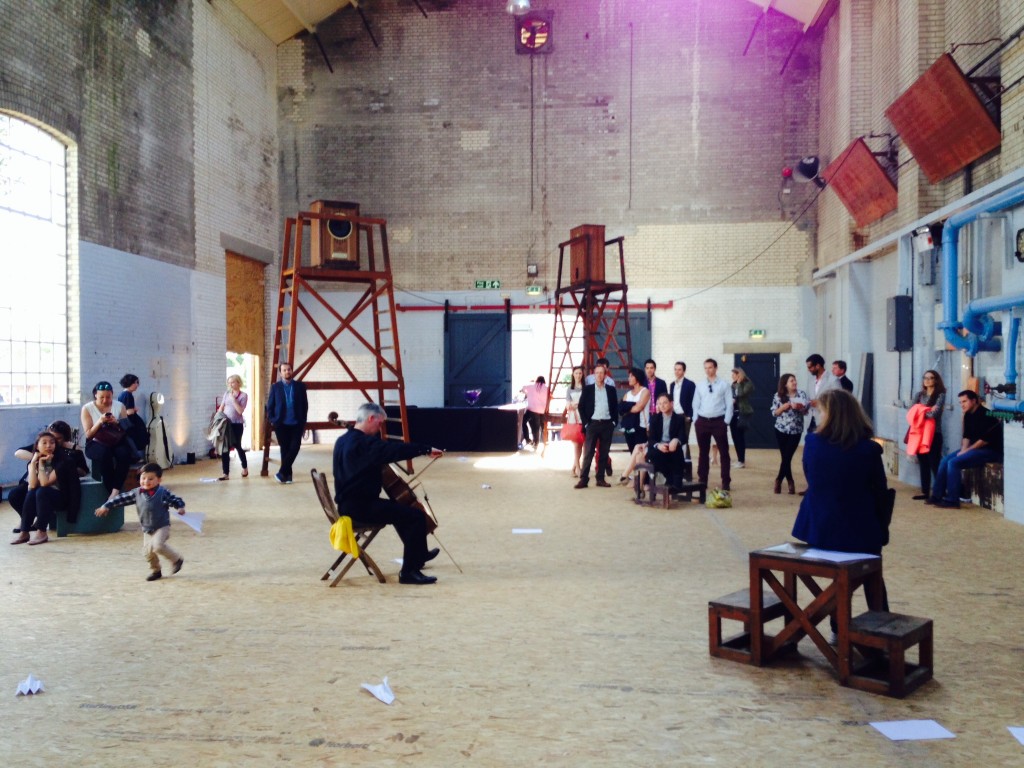 • Solo Cello, including Dvorak's 'Songs my mother taught me'                         

– 

As tribute to the BBC's first live outdoor broadcast 90 years ago – the iconic duet between leading cellist Beatrice Harrison and the Nightingales, in her surrey garden, May 1924 – for a few occasions I also placed the principle cellist from Farnborough Symphony Orchestra (Robin Chave), within both the Q121 Return Tunnel and also R52 building (see image above). He played a series of short works which Harrson played in her garden on that fateful day 90 yrs ago. 
 – Re-enacting the moment which 
so enchanted the nation, that the live annual nightingales broadcast was born, lasting some 18 years until the WW2 bombers cut it short for good
..  
FURTHER READING & LINKS:
Bridging a Neolithic Temple with a C20th Temple to the Futurism..
In Q121 I felt compelled to explore the possibility of a semi-religious experience in a space which is at once so Cathedral like, yet also so much an emblem of Futurism. This article about the archeoacoustics and spiritual experience of a Neolithic temple in Malta, explains quite well how resonances of lower frequency ranges (e.g. chanting, male voices and strangely the Bombers) can help stimulate this experience. – http://www.archaeoacoustics.org/news-and-events.html
Acoustic art and industrial architecture make music
Interesting New Scientist Article about the project by 

Trevor Cox

 and 

Simon Ings   http://www.newscientist.com/article/dn25808-acoustic-art-and-industrial-architecture-make-music.html#.U7CvGo1dUwy
"This aspect of sound art is, as yet, not very well understood, and since no one is going to build cathedral-like spaces for artists like Thor McIntyre to play in, that's all the more reason to open up derelict and disused industrial spaces to artistic exploration. As pioneering acoustic ecologist Raymond Murray Schafer says,
" sites with extraordinary acoustics deserve preservation just as much as those with remarkable visuals."
Some Reviews: 
http://www.newscientist.com/article/dn25808-acoustic-art-and-industrial-architecture-make-music.html#.U7CvGo1dUwy
http://disegnodaily.com/news/the-wind-tunnel-project
http://www.theguardian.com/artanddesign/gallery/2014/jun/01/the-wind-tunnel-project-in-pictures
http://www.creativereview.co.uk/cr-blog/2014/june/the-wind-tunnel-project
http://www.architectsjournal.co.uk/culture/farnboroughs-grade-i-listed-wind-tunnels-to-open-to-public/8656787.article
http://content.yudu.com/A32wsw/PSNESept14/resources/index.htm   ProSoundNewsEurope (cover story)
http://www.fast-and-wide.com/wideangle/5967-flying-into-the-dawn
http://monocle.com/radio/shows/culture/140/
http://www.apollo-magazine.com/extraordinary-structures-wind-tunnel-project-farnborough/
http://www.theguardian.com/artanddesign/2014/jun/06/this-weeks-art-shows-in-pictures
http://we-make-money-not-art.com/archives/2014/06/the-wind-tunnel-project.php#.U7Kioo1dUww
• Speakers Systems provided by : Tannoy – Many thanks to Mark Miller.
• Amplifiers provided by : Labgruppen 
This amazing architectural and historic place would not be here today, if it were not for the FARNBOROUGH AIR SCIENCE TRUST (FAST) – they deserve a 24′ medal !!
CREATIVE TEAM BEHIND THE PROJECT:
• The Wind Tunnels Project Produced by  Artliner :  Big thanks to: Tatiana Ojjeh (Curator), Victoria Luxem (Project Manager), Gemma Holsgrove (project co-ordinator).
• Exhibition Curator (of the V&A) Salma Tuqan 
• Exhibition Design: BKKR – Design, Print, Web and Way Finding.
• Lighting Design: Arnold Chan (Isometrix)
• Food Artist : Caroline Hobkinson
Installation & Creative Team* :
OLIVER AYLMER– Sound Design, Recording and Rigging
DAVID WAUGH – Sound Engineering, Sound Design and Rigging
DAVID DEGREEF-MOUNIER – Wood Sculptural build & co-design & research.
DUNCAN WHITELY– Sound Design and Recording
LUCY MOORE – Research and project management.
STEVE PETCH– Choral Director

 and Musician Researcher
* -The scale of this site and commission and the short time frame, required tremendous input from this core-team of creative specialists.  – I would like to extend a huge thank you to them for helping make this be-moth of project, take flight.
• Rushmoor Male Voice Choir Conducted by Steve Petch.
MARK KUSIONOWICZ (tenor)
JOHN LOADER (tenor)
STEVE PETCH (tenor)
TERRY FIELDUS (baritone)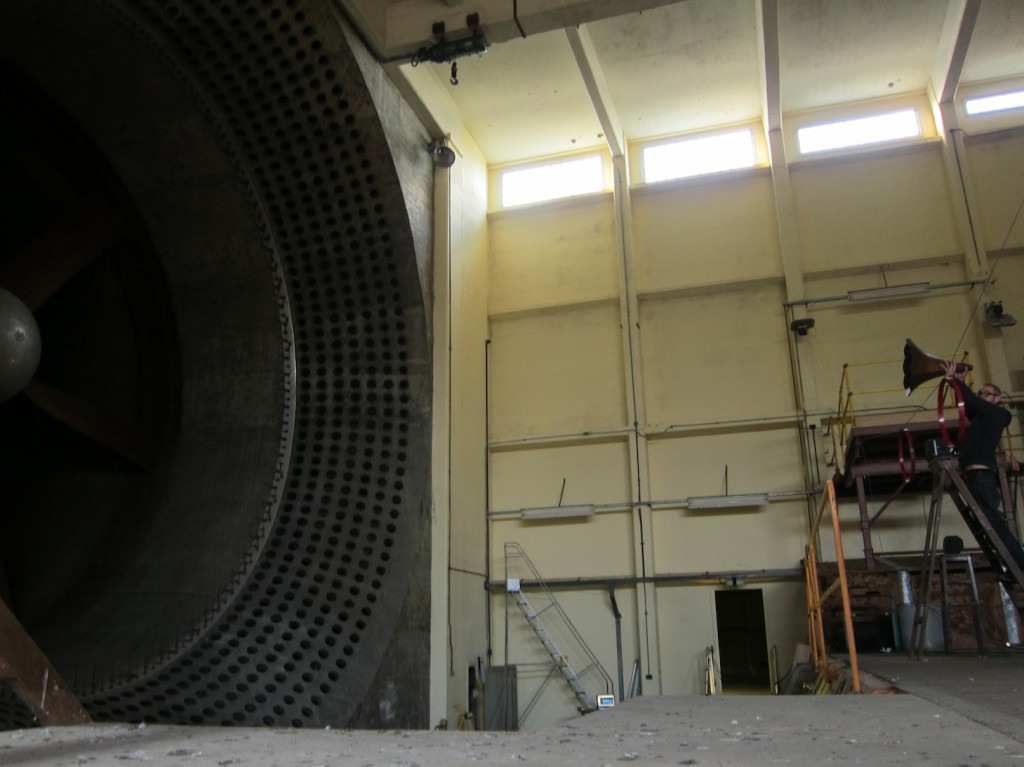 • For the Live Orchitecture Opening event:
Tavener: "Advaita Vedanta – The still point", movt III from "Requiem":
Conducted by : STEVE PETCH
EMMA MABIN (soprano)
DIANA VIVIAN (soprano)
BETH MABIN (alto)
STEVE PETCH (tenor)
ROBIN CHAVE (cello) – Farnborough Symphony Orchestra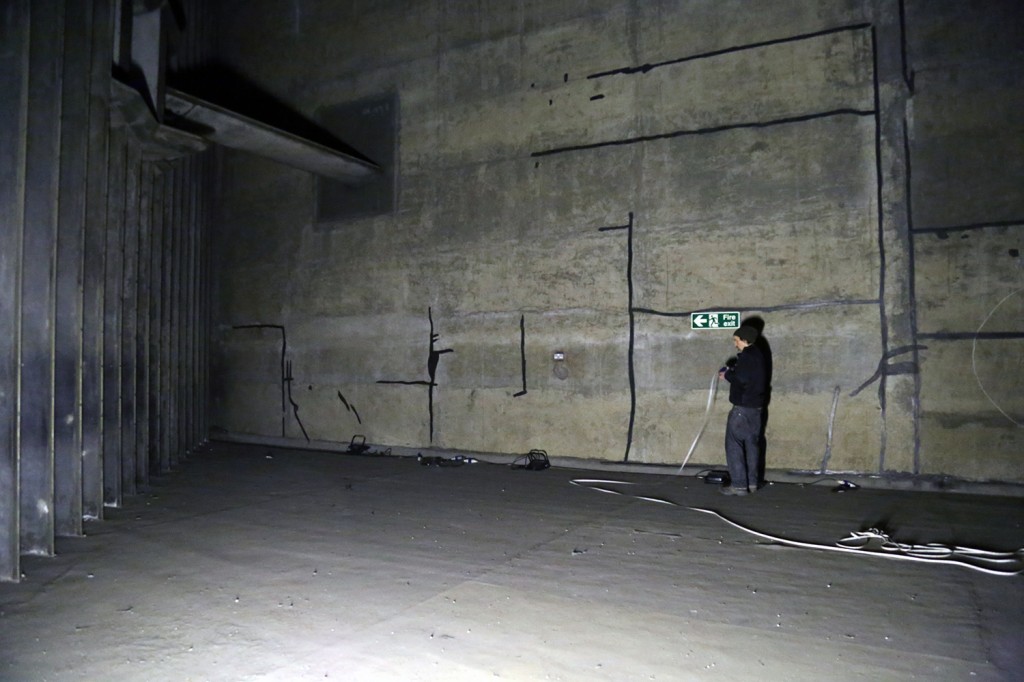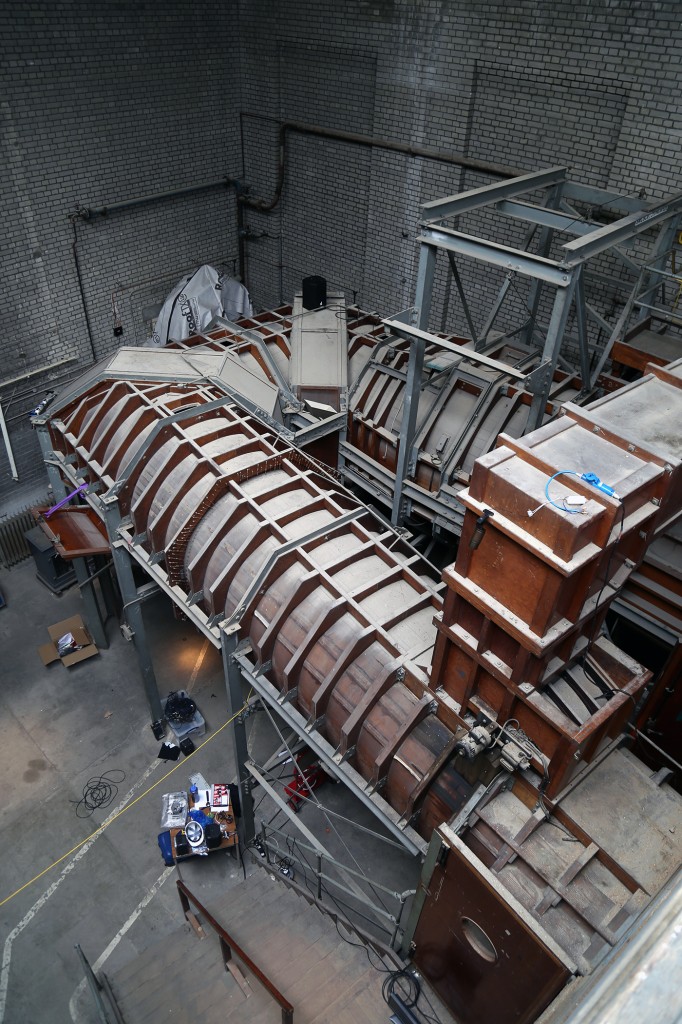 Photograph Credits: Many thanks for images from:
From top #1, 3, 6, 7 and 13 on this page provided by: Shaun Jackson.
image #2 on this page provided by: ForgottenHeritagePhotography 
Last 2 pictures by: Ally Robinson